Czestochowa (Poland), 02 December 2018
Trentino Diatecx again World Champions!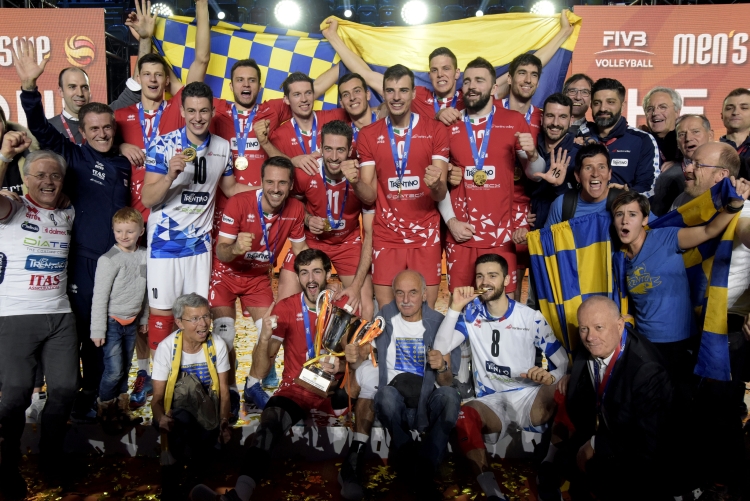 World Champions, World Champions, World Champions, World Champions, World Champions! Six years later Trentino Diatecx writes another wonderful chapter of Volleyball history and wins the fifth Club World Championship title. Tonight, at the Hala Sportowa in Czestochova, Yellow-blues completed a totally unexpected and victorious path and defeated Cucine Lube Civitanova in the all-italian Final. Against all the odds and the bookmakers quotations, favourite for the victory Civitanova was put under pressure since the very beginning and Trento excelled in all the fundamentals; yet it wasn't an easy match as both teams fought hard until Russell spiked the last ball and Trentino won by 3-1.
Supported by optimal reception, Trentino Diatecx could play with all the attackers (57% team efficiency, only four direct mistakes) and found in the block and defense the key to resist and respond to Lube's attacks. Even in the toughest moment, when the opponent tied on 1-1, Lorenzetti's team reacted optimally with Giannelli diversifying the plays between the two extremely efficient spikers Kovacevic (16 points scored, 61% in attack, two aces) and Russell, best scorer of the match with 20 points, 55% in attack, one block and one ace, nominated MVP.
Breaking a streak of ten defeats against Lube, this unbelievable success comes also thanks to the extraordinary contribution of libero Grebennikov, the 12 points scored by Vettori, middle-blockers Lisinac (69% in first set attacks and 3 blocks) and Candellaro (80% in first set attacks and 6 blocks).

Here following the stats of the 2018 Club World Championship Final played at the Hala Sportowa in Czestochowa.
Cucine Lube Civitanova-Trentino Diatecx 1-3
(20-25, 25-22, 20-25, 18-25)
CUCINE LUBE CIVITANOVA: Juantorena 11, Stankovic 7, Sokolov 17, Leal 7, Simon 14, Bruno 1, Balaso (L), D'Hulst, Massari, Cantagalli 1, Cester. N.e. Marchisio, Diamantini, Sander. Coach. Giampaolo Medei.
TRENTINO DIATECX: Vettori 12, Russell 20, Candellaro 10, Giannelli 1, Kovacevic 16, Lisinac 12, Grebennikov (L); Nelli, Van Garderen. N.e. Cavuto, Daldello, De Angelis e Codarin. Coach. Angelo Lorenzetti.
REFEREES: Maroszek (Poland) and Casamiquela (Argentina).
SET LENGTH: 27', 29', 30', 29'; tot. 1h and 55'.
EXTRAS: 5.623 spectators. Cucine Lube Civitanova: 13 blocks, 4 aces, 12 serve mistakes, 12 action mistakes, 44% in attack, 58% (8%) in reception. Trentino Diatecx: 12 blocks, 4 aces, 17 serve mistakes, 4 action mistakes, 57% in attack, 58% (11%) in reception.
Trentino Volley Srl
Press Office