Trento, 07 January 2019
President Mosna:"An unforgettable Saturday evening, thanks to the significance of Perugia"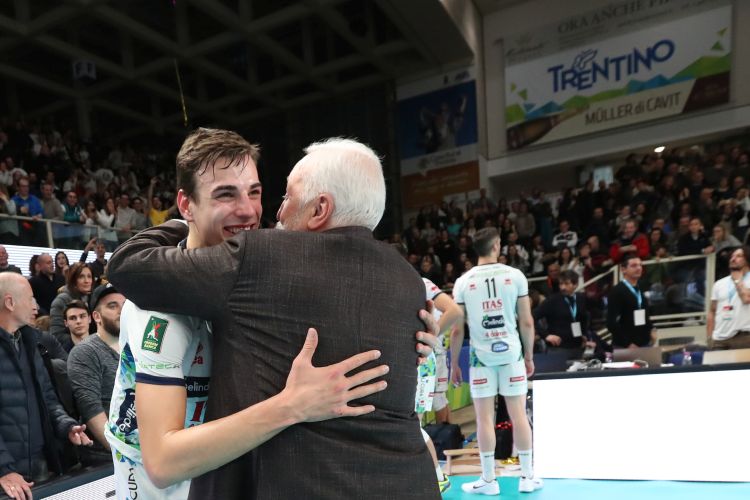 After the great weekend, in which Itas Trentino reached the first place in the rankings of SuperLega, 783 days after the previous time, the President Diego Mosna shared some personal considerations about the match against Perugia on his Facebook account, giving credit to the team of Perugia.
Here is the text of the post shared this afternoon.
"Between the night of Saturday and Sunday evening I've watched the match played on 5th January twice. In part because going through the match again is still moving, and in part because I wanted to look at the match with a clear head. I especially focused on the third set, the greatest of the three: the perfect end for the performance the two teams have given, that deserved to finish the match just at the fotofinish. In this occasion I would like to underline our incredible performance and, at the same time, to give credit to the great match Perugia has played. I don't think that Sir didn't play well or underplayed, as instead many claimed in the last few hours. It wouldn't do justice to our amazing performance or to the excellent Perugia. The story of the match goes about a team from Umbria that knew how to fight tooth and nail and knew how to start again after the defeat in the first and in the second set making a hot start in the next partials. As Lorenzetti often loves to say, volleyball is a sport where you have to have a rival in order to have a feedback. Saturday evening was unforgettable for our Society but not only because of the first place in the ranking obtained at that moment but also because of Perugia that arrived in Trento as first in the ranking not by chance. If its percentages in attack and the numbers of its service were lower than usual this was only because they faced Itas Trentino that was tactically flawless and outstanding in defence that, on the long game, diminished the certainties that were built in the first fifteen championship matches. Exactly for this reason I'm sure that the fight for the final first place will remain open until the very last round; therefore as Trentino Volley we have to be proud of being part of this, beginning the final rush already on Sunday in Vibo Valentia with two precious point to maintain from the first pursuer".
Trentino Volley Srl
Press Office