Trento, 10 January 2019
Grebennikov: "I love to exalt the public of BLM Group Arena"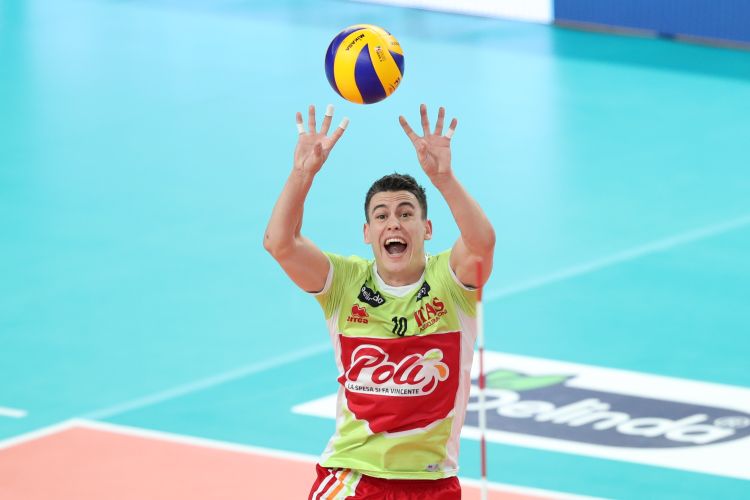 It took only ten home matches for BLM Group Arena to fall in love with Jenia Grebennikov. The French libero, arrived during last summer from Civitanova Marche, has become one of the most-loved players for the Trentino Volley fans, not only thanks to the home positive results (only victories), but also to his fantastic performances. His supporters are now ready to applaud all his defences just as they were blocks, points or break-phase attacks.
"The matches played versus Modena and Perugia, in front of a full house, made me appreciate even more the warmth and the constant support of our fans – said Jenia Grebennikov - . They give me great motivation and more dazzle to try to do better my job from the second line. I try to always do my best for the group but I have to admit that giving spectacle to this public can only make me happy because watching it getting exalted for a defence of mines is wonderful. We're coming from an excellent end of 2018, but our start of 2019 was extraordinary as well: being at the top of the ranking is absolutely satisfying and we're working to keep this position. We remain focused on our targets but knowing that we won't be able to count on our surprise effect anymore, therefore we keep working hard every single training session, because we can further grow."
"Our next match will be complicated – continued Jenia - ; playing well in Vibo Valentia is really hard, we'll have to focus in everything we will do because with the match versus Tonno Callipo, i twill start a second part of January which is very important for us. We will play in CEV Cup and Coppa Italia as well, beside the Championship, with knock-out matches, the most beautiful to be played. It will be of main importance to arrive at next match physically prepared and from this point of view our staff is doing their best to offer us our best physical shape; there will be just a little time to train because of the many scheduled away matches and we will have to make the most of the work done during these last two weeks".
Trentino Volley Srl
Press Office