Casalecchio di Reno (Bologna), 09 February 2019
Itas Trentino fights until the tie break in the Semi-finals of Del Monte Coppa Italia 2019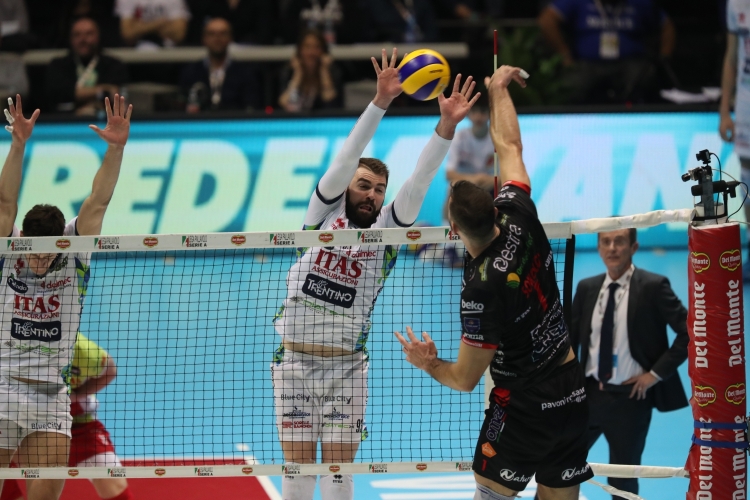 The Itas Trentino race in Del Monte® Coppa Italia 2019 stops in the semi-finals. To block the road to the yellow-blue team towards the round of sixteen was Cucine Lube Civitanova, who was able to win the match at Unipol Arena and reach Perugia (3-0 vs Modena in the first semi-finals).
Despite the imperfect physical conditions of Lisinac (who played only in the first half of the match due to a problem in the calf) and Giannelli, the World Champions have fought with the usual generosity and tenacity, performing two times a come back (from 0-1 to 1-1 and then from 1-2 and 2-2). To win, the team from Marche have indeed had to suffer for a long time in a match full of twists, in which Itas Trentino has shown excellent blocks and services, but failed in the end.
Uros Kovacevic was the best scorer (17 points with 71%, one block and one ace), but also Russel and Vettori (14 points a head) have played well with Giannelli and Candellaro (3 blocks). Codarin has played in the starting six in the second half of the match: he wasn't worried on the field (4 points with one block).
Below is the scoreboard of the second semi-final of Del Monte® Coppa Italia 2019 played tonight at the Unipol Arena in Casalecchio di Reno.
Itas Trentino-Cucine Lube Civitanova 2-3
(20-25, 25-21, 19-25, 25-15, 10-15)
ITAS TRENTINO: Vettori 14, Russell 14, Candellaro 9, Giannelli 4, Kovacevic 17, Lisinac 4, Grebennikov (L); Van Garderen 2, Nelli, Codarin 4. N.e. Cavuto, Daldello, De Angelis. All. Angelo Lorenzetti.
CUCINE LUBE CIVITANOVA: Cester 1, Bruno 3, Juantorena 14, Simon 13, Sokolov 18, Leal 14, Balaso (L); Kovar, D'Hulst, Diamantini 2, Cantagalli. N.e. Marchisio, Stankovic. All. Ferdinando De Giorgi.
REFEREES: Santi from Città di Castello e Vagni from Perugia.
DURATION OF THE SET: 27, 30', 26', 23', 20'; tot 2h and 6'.
Trentino Volley Srl
Press Office