Trento, 23 March 2019
Itas Trentino wins 3-1 against Monza and gains the 2nd place in SuperLega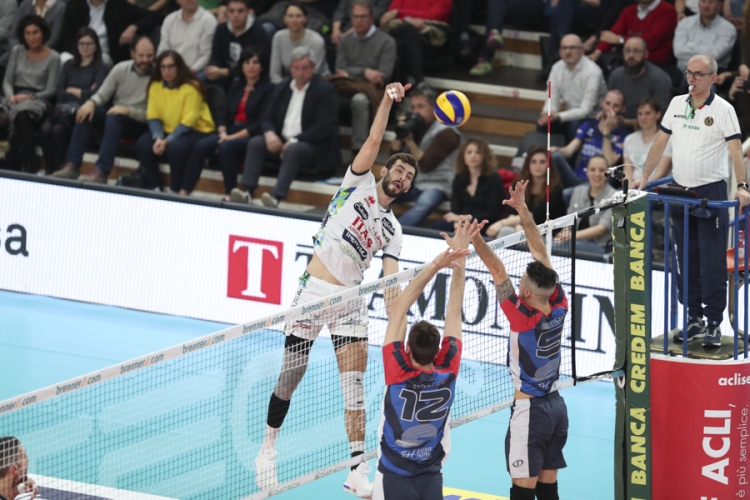 Mission perfectly accomplished for Itas Trentino. Tonight the team gained the twenty-second victory in the championship on twenty-six matches played, thanks to the 3-1 obtained at the BLM Group Arena in Trento. In fact the World Champions have concluded the regular season of SuperLega Credem Banca 2018/19 in second place in the standings.
For the team this is a great result, which will undoubtedly offer some advantages in the Play Offs, such as play an extra game at home not only in the quarter-finals but also in the semifinals. In the first round, that starts on Sunday 31st at the BLM Group Arena, the team could face Monza again (currently in seventh place in the standings) or Padua, if it will won against Latina on Sunday evening. The yellow-blue team played a high quality game: 12 blocks, 7 aces, 51% in attack with just two direct errors. Monza, instead, played on good levels at the service and on the blocks, as in the second set, but the hosts count on Vettori (27 points of which two on blocks and 2 in batting with 61% on the net). To be noted: Russell's precision (15 points with 54%) and the constant contribution at the net of Codarin (71% with three blocks) and, as usually, Giannelli.
Below is the scoreboard of the match of the twenty-sixth day of SuperLega Credem Banca 2018/19 regular season played at BLM Group Arena.
Itas Trentino-Vero Volley Monza 3-1
(25-17, 23-25, 25-20, 25-18)
ITAS TRENTINO: Vettori 27, Russell 15, Codarin 8, Giannelli 7, Kovacevic 10, Candellaro 5,
Grebennikov (L); Van Garderen, Nelli, Cavuto. N.e. Daldello, De Angelis, Lisinac. Trainer Angelo Lorenzetti.
VERO VOLLEY: Orduna 1, Plotnytskyi 9, Yosifov 6, Ghafour 1, Dzavoronok 12, Beretta 4, Rizzo (L); Botto 7, Buti 2, Galliani 1, Calligaro, Arasomwan. Trainer. Fabio Soli.
REFEREES: Braico e Venturi di Torino.
DURATION OF THE SET: 26', 32', 31', 26'; tot. 1h e 55'
NOTES: 2,858 fans with 21,780 euro collected. Itas Trentino: 12 block, 7 aces, 13 errors in service, 2 in attack, 51% in attack, 65% in reception. Vero Volley: 11 blocks, 6 aces, 15 errors in service, 9 errors in attack, 45% in attack, 51% in reception. Mvp Vettori.
Trentino Volley Srl
Press Office