Trento, 23 March 2019
Itas Trentino-Vero Volley Monza 3-1, the match report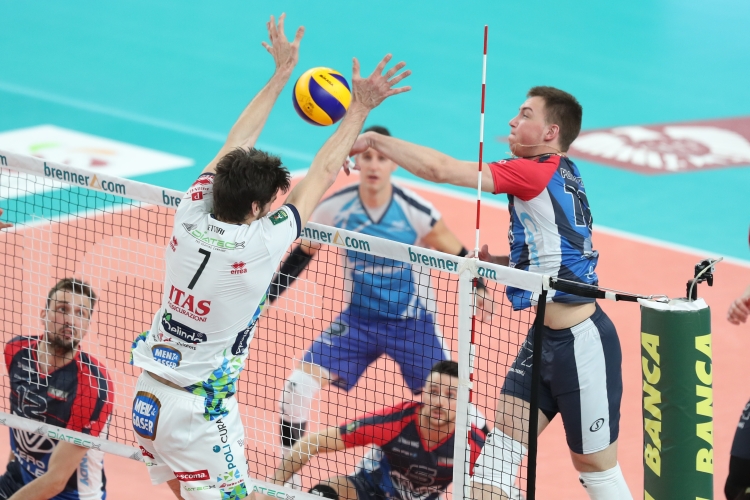 Report of the match. For the last game of the regular season Angelo Lorenzetti inserts in the starting six Giannelli as setter, Vettori opposite , Russell and Kovacevic spikers, Codarin and Candellaro middle-blocker, Grebennikov libero. Vero Volley proposes Orduna as setter, Ghafour opposite, Plotnytskyi and Dzavoronok spikers, Beretta and Yosifov in place 3, Rizzo libero. After an initial balance (4-4), the hosts try to take off immediately thanks to the good rotation at the service of their captain, and by an ace for 7-4. The time out of Soli does not slow down the yellow-blue team who with Russell in attack and Kovacevic, gains more points (11-5). Monza tries to react with Ghafour (16-11), but Kovacevic, still serving, and Vettori, with a block on Plotnytskyi, opens the gap (20-12): the 1-0 arrives on 25-17 with Vero Volley very weak at the net, even in the final part of the set.
With the change of field the guests change the opposite (in the Buchegger field) and also their attitude, starting to play better. Lorenzetti spends a time-out on 0-3, but his advice is not listened because Itas struggles in attack and in reception, going 5 points down. The trainer of Itas put Van Gardener on the field. Trento tries to perform a comeback but the blocks of the opposite are strong (7-13). The Vero Volley service is getting stronger (10-6, 13-20) but at the end of the set Itas Trentino performs a comeback but they lose the set anyway (23-25).
The third set starts again thanks to a better service and an attack returned to the levels of the first set. Vettori's arm is still warm and inspires the +5 points for the yellow-blue team, confirming it (13-8 and 15-9) and increasing it in the final (21-13) thanks again to the Emilian opposite. In the fourth set, Soli revolutionizes his formation with Calligaro as setter, Galliani in place 4 and the couple Buti-Arasomwan in the middle. Monza immediately is ahead (0-2 and 5-6). Thanks to Russel, Trento reach Monza (12-9). Vero Volley is not at the top anymore and the Champions of the World go toward the 3-1 that means second place in the ranking (25-18).
Trentino Volley Srl
Press Office