Trento, 24 March 2019
Ticket point: from now pre-sale available for the n.1 Play Off match vs Padova on Sunday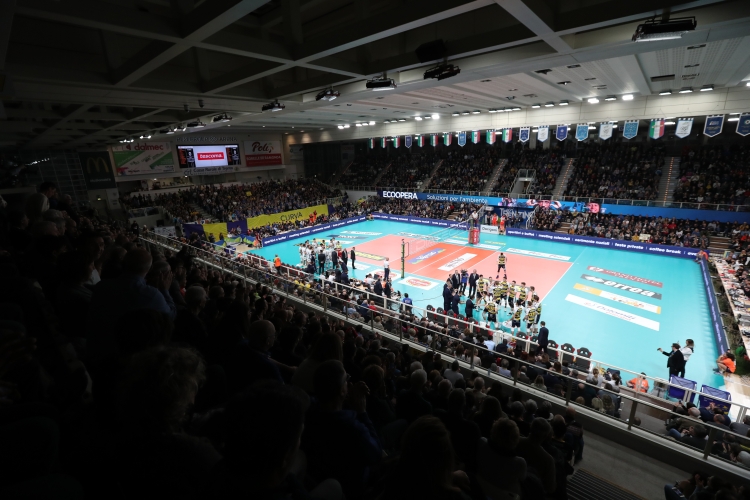 The matches of Playoff Scudetto Credem Banca 2019 will start on Sunday 31th of March at BLM Group Arena: at 6 pm there will be the match n.1 of the final quarters vs Kioene Padova. The match is included in the season-tickets 2018/19; for the ones without it, the pre-sale is active from Monday 25 March at the usual points: Trentino Volley Point in via Trener 2 in Trento, PromoEvent in via Suffragio 10 in Trento, at every italian ticket point of Vivaticket and on the Internet, clicking on www.trentinovolley.it/ticketonline.
Here are the prices, the usual ones of the regular season:
VIP AREA 35 euros
BEST AREA 22 euros
BEST REDUCED 14 euros
STAND 17 euros
STAND REDUCED 14 euros
EAST SIDE 14 euros
WEST SIDE 12 euros
GISLIMBERTI AREA 12 euros
GISLIMBERTI AREA REDUCED 10 euros
The reduced tarifs only apply to under 16 and over 65.
Here the full programme of the quarter finals of Play Off Scudetto Credem Banca 2019:

Match 1: Sunday 31th of March, h. 18 (at BLM Group Arena – match included in the season-tickets)
Match 2: Sunday 7th of April, h. 18 (at Kioene Arena of Padova)
Potential match 3: Saturday 13th of April, h. 18 (at BLM Group Arena – match not included in the season-tickets)
Trentino Volley Srl
Press Office