Istanbul (Turkey), 26 March 2019
Another international trophy! Trentino Itas' 2019 CEV Cup! 3-2, comeback vs Galatasaray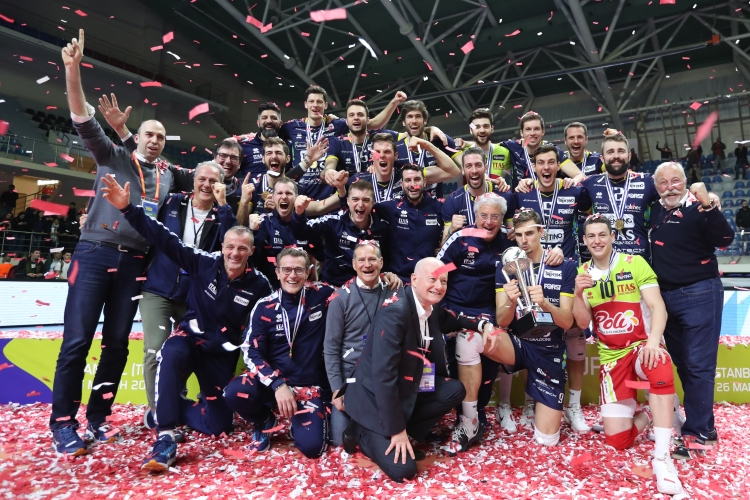 The nineteenth season of Trentino Volley assumed a more international dimension. After the World Cup won in Czestochowa on 2nd December, the team assured himself also the 2019 CEV Cup, tonight in Turkey, it was the only trophy missing on the society board. Winning this European trophy, second only to the Champions League, allows Trentino Itas to have again its name on such a prestigious cup after eight years from the last time and to celebrate the eighteenth title of its history, the second of the 2018/19 season. Lorenzetti's team has finished the job at the Burhan Felek Voleybol Salonu of Istanbul winning 3-2 the returning match of the Final, achieving what it has started working on a week ago in Trento. In the first two sets the opponents put our team in a difficult spot, the certainty of having won the match arose after the comeback during the third and the fourth set. Anyhow Giannelli and his teammates wanted to give more worth to the competition, winning at the tie break, a result that allowed Trentino Volley to end the international experience without losses (15 wins in World Club Cup and in CEV Cup) as it has already happened in the 2008/09 season, at the end of which the team even won the Champions League in Prague. Kovacevic in the spotlight (mvp with 24 points and 53% attack efficiency, 4 blocks and 2 aces), also Nelli had a good performance, substituting Vettori and helping the team in the most difficult time. His 14 points with 69% attack efficiency in the net area helped changing the match, reversing a trend that was getting more and more dangerous. Noteworthy were also the valuable Candellaro, the Captain Giannelli and the great Jenia Grebennikov.
Below the table of the return match of Final of 2019 CEV Cup, played tonight at the Burhan Felek Voleybal Salonu in Istanbul.
Galatasaray Istanbul-Trentino Itas 2-3
(25-22, 25-21, 16-25, 16-25, 5-15)
GALATASARAY ISTANBUL: Gok 4, Venno 17, Aydin 7, Duff 9, Keskin 5, Antonov 14, Ayvazoglu (L); Carkin (L); Ulu 3, Gergye 2, Yomet, Minici, Siratca. N.e Kalaycy. Coach Nedim Ozbey.
TRENTINO ITAS: Vettori 2, Russell 14, Codarin 8, Giannelli 3, Kovacevic 24, Candellaro 12, Grebennikov (L); Nelli 14, Van Garderen 4, Cavuto, Daldello, De Angelis (L), Lisinac. Coach Angelo Lorenzetti.
REFEREES: Ormonde from Capelas Acores (Portugal) and Visan from Bucarest (Romania).
SET LENGTH: 26', 30', 27', 26', 11'; total 2h.
NOTES: 5.000 spectators. Galatasaray: 16 blocks, 7 aces, 15 mistakes in serving, 7 mistakes in action, 36% in attack, 36% (20%) in reception. Trentino Itas: 16 blocks, 11 aces, 16 mistakes in serving, 9 mistakes in action, 48% in attack, 47% (25%) in reception. Mvp Kovacevic.
Trentino Volley Srl
Press Office