Trento, 13 April 2019
Itas Trentino-Kioene Padova 3-0, the report of match 3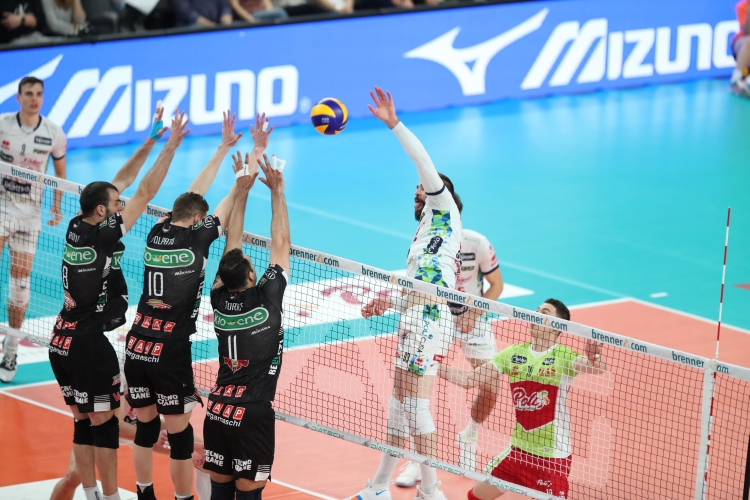 Here the commentary of the match n.3. Itas Trentino can count on Kovacevic again, who comes back in place n.4 in the diagonal with Russell; Giannelli in the service, Vettori as opposite, Lisinac and Candellaro as centrals and Grebennikov as libero. Kioene Padova reacts with Travica in the service, Torres as opposite, Barnes and Louati as laterals, Volpato and Polo in the centre, Danani La Fuente as libero. At the beginning the host team tries immediately to take the lead during the break point thanks to Russell and Kovacevic (4-2, 6-3), while Torres (two direct errors) struggles to shape up (9-5, time-out Baldovin). The guest team turns out to be foul and Trentino takes advantage of it to run ahead: Vettori (13-6, through attack and block), before Barnes tries and wants his players react (13-9 and 15-12) with attacks and aces.
To enlarge the gap again are the spikers Kovacevic and Candellaro during the break point and the ace of Giannelli (20-13). Padova gives up and Trento benefits from it running towards 1-0 (23-13 and 25-18).
Kioene tries to react at the beginning of the second partial, aiming at the service, the defense (1-3, 7-9) and with some good points at the block. Itas Trentino does not give in and takes on again during side-out phase; at the tenth point it surpasses Kioene, thanks to the excellent performance of Vettori in the net (13-11). The time out of Baldovin is providential, since Kioene reacts with a block by Polo vs Kovacevic scoring the tie at 14-14. From that moment the match becomes very intensive and point by point (16-17, 19-18, 21-21), with constant overturns. An error by Volpato in the first set offers Trento a +2 (23-21), that makes the best of it hiking to 2-0 thanks to a 25-23 scored by Russell in the side-out phase.
Full of enthusiasm Itas Trentino heads on also in the third set (4-1 and 9-5), with Kovacevic and Lisinac who delight their crowd with excellent performances. Padova is not able to react efficiently (13-7, 16-10), also because the World Champions are unstoppable and fly towards the semifinal (20-15, 25-17).
Trentino Volley Srl
Press Office