Trento, 16 April 2019
Game 1 of 2019 Play Off Scudetto Semifinal: Cucine Lube Civitanova wins at tie break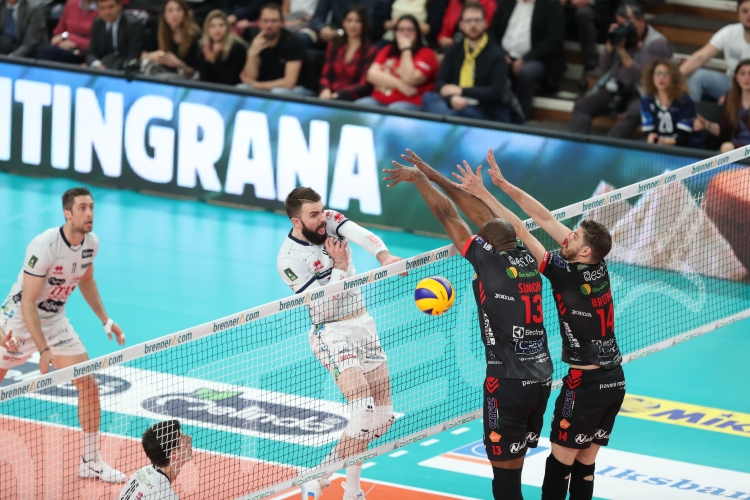 The 2019 Credem Banca Play Off Scudetto Semifinal between Itas Trentino and Cucine Lube Civitanova opens in the sign of balance and entertainment: Cucine Lube Civitanova won the first match at the tie break after more than one hundred and sixty minutes of game. Itas Trentino was close to success; the World Champions had managed to get the 1-0 and then the 2-1. The battle became even tighter in the fourth set, where Itas Trentino failed to score a 19-16. The opponents, who won the set and then the tie break, even for 19-21 after canceling three match balls for the yellow-blue team. The performance of Sokolov, to sign 36 times with 54%, opposed to the usual great performance of Kovacevic (24 points with two walls, one ace and 60% in attack) and the one of Vettori (18 with 50%).
Report of game 1. The sextet of the Itas Trentino chosen by Lorenzetti doesn't show any news: Giannelli as setter, Vettori as opposite; Kovacevic and Russell as spikers, Candellaro and Lisinac as middle-blockers and Grebennikov as libero. De Giorgi presents the Cucine Lube team with Bruno as setter, Sokolov as opposite, Juantorena and Leal as spiersk, Cester and Simon as middle-blockers, Balaso as libero. The start of the match for Itas Trentino is furious and immediately score with Kovacevic (3-1) and then with Vettori (6-3), a situation that forces guests to take a time out. At the restart, however, it is still the Uros-Show (attack and ace for the 9-4, another counterattack for the 12-6) and the coach of Civitanova let Leal in, who with a block on Vettori and an ace, tries to shake the Lube (14-10), but Trento starts again with Giannelli (ace 17-10). Two blocks made by Simon on Kovacevic and by Sokolov on Russell, partially makes the score more compact (19-15). However, the ace of Sokolov change the situation (21-19); but at the end Nelli made a slash with the help of Giannelli and an ace on Juantorena for 25-20.
During the second set Cucine Lube Civitanova starts to work very well in the break point phase: Sokolov, Juantorena and Leal hurt the reception of Itas Trentino (1-4, 4-8). The Itas Trentino also struggles in attack and is less precise than other times at the net area; Civitanova accelerate again (7-13 and 8-15); the set seems already finished but on 13-21 the yellow-blue take an advantage (18-21); Russell made ace, the score return incredibly to 20-21 thanks to an ace by Russel. The tie reaches 22 with a block of Lisinac on Sokolov, who made the final break point (23-25).
Even in the third set the match continues quietly where Civitanova is ahead (1-3) before being overcome thanks to a Trentino Volley's block (Kovacevic and Giannelli 9-7). After De Giorgi's time out, a Simon's mistake and a counterattack by Kovacevic increased the gap (12-8) and forced the red-and-white coach to spend another time-out. When the match restarted, Civitanova immediately closes the gap (13-11); Itas Trentino staggers but starts again with Kovacevic and Giannelli (16-13 and 19-15). The world champions dominate the final set (23-17) and go ahead 2-1 with Lisinac (25-19). The fourth set is full of emotions: the two teams alternate in the lead (1-3, 8-7, 10-11) hitting any ball with power. Kovacevic replies to Sokolov; Civitanova score +2 points with the Bulgarian player (14-16), but Trento replies with Russell (19-16) also thanks to a block by Vettori. Cucine Lube, still with Sokolov, reaches parity at 20; the sprint is of great intensity (23-23); then Sokolov cancels a set ball (24-24), and then Simon with the service gets one (25-25). The decisive point is scored by the guests: Diamantini's block on Candellaro and a Russell's error in attack (26-28). In the tie break Itas Trentino immediately showed a couple of empty passages (1-4, 3-6), then tried to recover (7-8) and tie on 9-9 with a mistake by Sokolov. Leal's error and Lisinac's ace send the World Champions to +2 (13-11), an advantage that lasts a few seconds (block of Leal on Vettori). Also in this case we go on well beyond the established score: Trento cancels a match ball (14-14) with Nelli and gets a pair (18-18). Lube believes in it to the end and on the third occasion it scores with a break point of Sokolov (19-21).
"The regret we have can only be technical, because for all the rest the team has done its best - it was the first comment done at the end of the match by Angelo Lorenzetti -. We did not have great continuity in the match, we were also fluctuating because Cucine Lube managed to highlight our shortcomings. However, we have done so much and the hope is to be able to extend the series. This game teaches us that by growing in some aspects we can play it to the end ".
In three days, Friday 19 April (8.30 pm - live RAI Sport + HD and Radio Dolomiti), the second act of the series at Eurosuole Forum in Civitanova Marche.

Below is the scoreboard of the semifinal match of the Play Off Credem Banca 2019, played tonight at BLM Group Arena.

Itas Trentino-Cucine Lube Civitanova 2-3
(25-20, 23-25, 25-19, 26-28, 19-21)
ITAS TRENTINO: Russell 12, Candellaro 4, Giannelli 8, Kovacevic 24, Lisinac 9, Vettori 19, Grebennikov (L); Nelli 3, Cavuto, Van Garderen. N.e. Daldello, De Angelis, Codarin. All. Angelo Lorenzetti.
CUCINE LUBE: Leal 11, Cester 1, Bruno 1, Juantorena 15, Simon 10, Sokolov 36, Balaso (L); Kovar 5, D'Hulst, Stankovic, Cantagalli, Massari, Diamantini 4. N.e. Marchisio. All. Ferdinando De Giorgi.
REFEREES: Simbari from Milan and Goitre from Turin
DURATION OF THE SET: 29', 31', 29', 44', 27'; tot 2h e 40'
NOTES: 2,601 spectators, for a collection of 38,007 euros.
Itas Trentino: 7 blocks, 11 ace, 20 errors in service, 8 errors in attack, 51% in attack, 58% (28%) in reception. Cucine Lube Civitanova: 10 blocks, 9 aces, 23 errors in service, 15 errors in attack, 53% in attack, 51% (28%) in reception. Mvp Bruno.
Trentino Volley Srl
Press Office