Trento, 16 April 2019
Itas Trentino-Cucine Lube Civitanova 2-3, the match report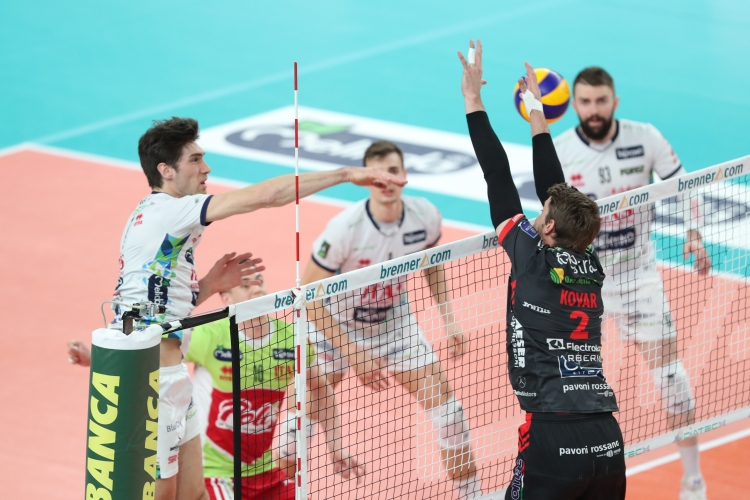 Report of game 1. The sextet of the Itas Trentino chosen by Lorenzetti doesn't show any news: Giannelli as setter, Vettori as opposite; Kovacevic and Russell as spikers, Candellaro and Lisinac as middle-blockers and Grebennikov as libero. De Giorgi presents the Cucine Lube team with Bruno as setter, Sokolov as opposite, Juantorena and Leal as spiersk, Cester and Simon as middle-blockers, Balaso as libero. The start of the match for Itas Trentino is furious and immediately score with Kovacevic (3-1) and then with Vettori (6-3), a situation that forces guests to take a time out. At the restart, however, it is still the Uros-Show (attack and ace for the 9-4, another counterattack for the 12-6) and the coach of Civitanova let Leal in, who with a block on Vettori and an ace, tries to shake the Lube (14-10), but Trento starts again with Giannelli (ace 17-10). Two blocks made by Simon on Kovacevic and by Sokolov on Russell, partially makes the score more compact (19-15). However, the ace of Sokolov change the situation (21-19); but at the end Nelli made a slash with the help of Giannelli and an ace on Juantorena for 25-20.
During the second set Cucine Lube Civitanova starts to work very well in the break point phase: Sokolov, Juantorena and Leal hurt the reception of Itas Trentino (1-4, 4-8). The Itas Trentino also struggles in attack and is less precise than other times at the net area; Civitanova accelerate again (7-13 and 8-15); the set seems already finished but on 13-21 the yellow-blue take an advantage (18-21); Russell made ace, the score return incredibly to 20-21 thanks to an ace by Russel. The tie reaches 22 with a block of Lisinac on Sokolov, who made the final break point (23-25).
Even in the third set the match continues quietly where Civitanova is ahead (1-3) before being overcome thanks to a Trentino Volley's block (Kovacevic and Giannelli 9-7). After De Giorgi's time out, a Simon's mistake and a counterattack by Kovacevic increased the gap (12-8) and forced the red-and-white coach to spend another time-out. When the match restarted, Civitanova immediately closes the gap (13-11); Itas Trentino staggers but starts again with Kovacevic and Giannelli (16-13 and 19-15). The world champions dominate the final set (23-17) and go ahead 2-1 with Lisinac (25-19). The fourth set is full of emotions: the two teams alternate in the lead (1-3, 8-7, 10-11) hitting any ball with power. Kovacevic replies to Sokolov; Civitanova score +2 points with the Bulgarian player (14-16), but Trento replies with Russell (19-16) also thanks to a block by Vettori. Cucine Lube, still with Sokolov, reaches parity at 20; the sprint is of great intensity (23-23); then Sokolov cancels a set ball (24-24), and then Simon with the service gets one (25-25). The decisive point is scored by the guests: Diamantini's block on Candellaro and a Russell's error in attack (26-28). In the tie break Itas Trentino immediately showed a couple of empty passages (1-4, 3-6), then tried to recover (7-8) and tie on 9-9 with a mistake by Sokolov. Leal's error and Lisinac's ace send the World Champions to +2 (13-11), an advantage that lasts a few seconds (block of Leal on Vettori). Also in this case we go on well beyond the established score: Trento cancels a match ball (14-14) with Nelli and gets a pair (18-18). Lube believes in it to the end and on the third occasion it scores with a break point of Sokolov (19-21).
Trentino Volley Srl
Press Office