Trento, 18 April 2019
Semi-finals of Play Off Scudetto Credem Banca 2019. Match 2 on Friday night in Civitanova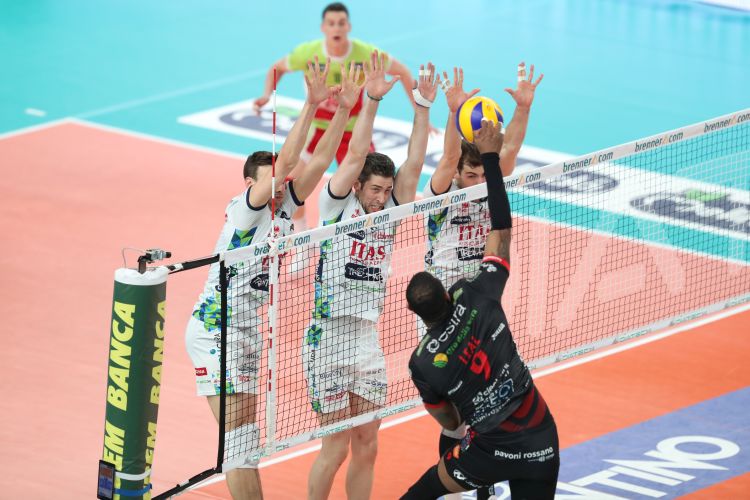 Match 2 of semi-finals of Play Off Scudetto Credem Banca 2019 will be played on Friday April 19th. Itas Trentino will play at Eurosuole Forum aiming for a victory that would allow it to find the draw in the best-of-five series. The start of the match is scheduled for 8.30 p.m.: live broadcast on RAI Sport + HD and Radio Dolomiti.
HERE ITAS TRENTINO The team from Trento will again try to face the field factor in Marche to try to get the series at least to match 4 and obtain the chance to go back in Civitanova in seven days.
"Our target is the one of extend the series – confirms coach Angelo Lorenzetti - ; the match of Tuesday night showed that we have to be constant from a technical point of view and generally to improve our performances if we want to do that. The incoming match is even harder than the first one and we have to face it with determination and willing to be protagonists without thinking about anything else".
The team from Trento left to Civitanova this afternoon already after having made a last training session at lunch time at BLM Group Arena. The pre-match training session will be on Saturday morning at Eurosuole Forum. Match 2 will be 50th seasonal match for Trentino Volley, the 27th away with a balance of twenty victories and six defeats (the last one in Padova on April 7th). The incoming one will be the 116th match for the Club of via Trener for what regards Play Off Scudetto (the balance says 69 victories and 46 defeats) and the 41st in semi-finals, with 24 victories and 16 defeats.
THE OPPONENTS The home 3-2 victory allowed Cucine Lube Civitanova to immediately make the most of field factor in the series. The red-whites will in fact just have to win two home victories to obtain the qualification to their third Play Off Final in a row. The hosting team can boast of a great seasonal score at home since they won nineteen of the twenty official home played matches; the only one defeat is dated back to November 1st 2018 (0-3 versus Perugia). After that defeat Civitanova obtained eighteen victories in a row. The service, which scored 27 times in three Play Off matches, and the former players Sokolov, 36 scored points on Tuesday, and Juantorena (15) will be the main weapon that Lube will use to try to get to 2-0.
PREVIOUS MATCHES Cucina Lube is the opponent which Trentino Volley played against the greatest number of times (nine times during Play Off Scudetto this season) after Modena (72 matches): 65 matches with a balance of 34-31 for the Marchigiani. In the current season the two Clubs played versus each other five times already with results more and more in favour of the red-whites, except in occasion of the Final of World Club Championship 2018 dated back to December 2nd in Czestochowa (3-1 for the yellow-blues). Last yellow-blue victory at Lube's home is instead dated back to February 10th 2013 (3-1), when the stadium was in Fontescodella di Macerata. Trento has never won in the new stadium in Civitanova Marche in eight previous matches, including the most recent one (tie-break defeat on November 4th).
THE SERIES Cucine Lube Citivanova is ahead 1-0 in the semi-final series which is played with the best-of-five formula, thanks to the 3-2 obtained at BLM Group Arena on April 15th (25-20, 23-25, 25-29, 26-28, 19-21. Match 2 will be on Friday and could be the only one be played in Marche in case of two other victories of the opponents between the incoming match and the next one (match 3) on Monday April 22nd in Trentino (6 or 6.30 p.m.). The team which will obtain the qualification to next turn will play versus the winning team between Perugia and Modena (1-0 for Modena) in the Final match (played with the best-of-five formula as well and starting on May 1st).
REFEREES The match will be whistled by Simone Santi (first referee from Città di Castello, Perugia) and Ilaria Vagni, second referee from Perugia. This will be the fifteenth seasonal match in SuperLega for Santi, who has being whistling in Serie A since 1994 and has been international referee since 2011; three of these matches are referred to Trentino Volley: home victories in three sets versus Verona (November 18th) and Castellana Grotte (February 3rd) and tie-break defeats versus the same Civitanova in the semi-finals of Coppa Italia on February 9th in Bologna. Next match will be the fourteenth seasonal one in SuperLega for Vagni, who has been whistling since 2003 and has been an international referee since 2014; five of these matches saw Trentino Volley as a protagonist: 3-1 victory in Siena (December 26th), 3-0 versus Latina on January 27th , 3-0 versus Modena on March 17th and 3-0 versus Padova on April 13th; the only one defeat was in Bologna versus Civitanova (3-2 on February 9th – semi-finals of Coppa Italia).
TV, RADIO AND INTERNET The match will be a global media event and will boast of a live broadcast through all the kind of medias. It will in fact be broadcast by RAI Sport +, channel present on the digital terrestrial platform (channel number 57 in hd, 58 in sd) and on the satellite ones of Sky on channel 227 with live commentary performed by Maurizio Colantoni and Andrea Lucchetta; the images will be available on the Internet as well with a video-audio streaming by clicking at www.radiosport.rai.it.
There will be as usual a live commentary on Radio Dolomiti, Trentino Volley's radio partner, starting from 8.25 p.m. All the frequencies to join the regional network are available at www.radiodolomiti.com, where it will be also possible to listen to a live commentary streaming by entering the "on Air" section.
A deferred version of the match will be broadcast on Monday April 22nd at 9.50 p.m. on RTTR – tv partner of Trentino Volley. Lastly, point-to-point updates will be performed on the Internet by the official site of Lega Pallavolo Serie A (www.legavolley.it) and by www.trentinovolley.it itself and there will always be active on the yellow-blue Social Networks (www.trentinovolley.it/facebook and www.trentinovolley.it/twitter).
Trentino Volley Srl
Press Office