Trento, 22 April 2019
Itas Trentino catches up: 3-2 vs Lube in match 3 of Play Off Championship 2019 semifinal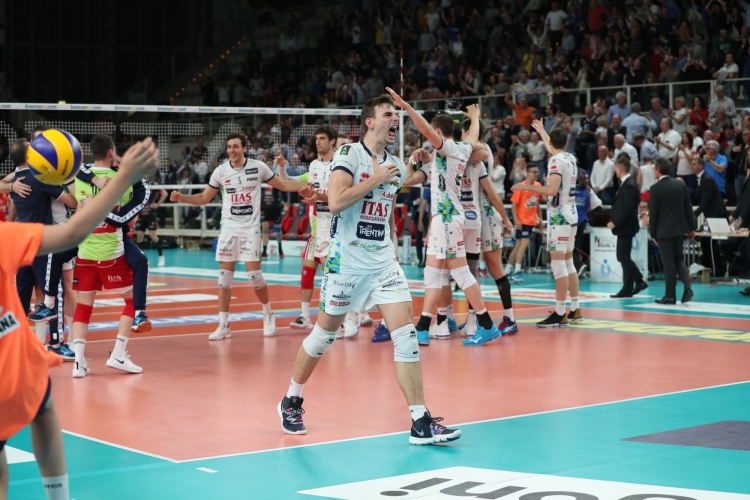 Itas Trentino catches up in match 3 of Play Off championship Credem Banca 2019 semifinal. After the two defeats in the first two matches of the ones vs Civitanova, yesterday night the World Champions has achieved its first home success of the season vs Cucine Lube, conquering the point of the 1-2, giving in this way appointment for the fourth match at Eurosole Forum on Thursday 25th of April. The first match ball in favour of Cucine Lube has been reversed thanks to a determined and energetic but perhaps not consistent performance until the end; after all, this was the only way to catch up twice (at 0-1 and at 1-2 in the partial's calculation), winning a tie break that the guest team had led also at 7-10 and 10-12. The excellent performance and the anger of Kovacevic (mvp and best scorer with 26 personal points, of which three at block and two in the service, with 54% in attack), the strenght of Giannelli in the service and the ability of Lorenzetti in leading the highlights of the match (he has often changed the positions of his players, alterning different roles) have disoriented the opponents, stuck by a brilliant block (16 winning blocks!) and by a resolved Lisinac also in the service. Also Cavuto did its best by replacing Russell in the central part of the match and scoring 11 points, with 67% in the net, two blocks and one ace.
Here the scoreboard of turn 3 of Semifinal Play Off Championship Credem Banca 2019 that has been played tonight at BLM Group Arena.
Itas Trentino-Cucine Lube Civitanova 3-2
(23-25, 25-22, 24-26, 25-23, 16-14)
ITAS TRENTINO: Candellaro 7, Vettori 10, Russell 7, Giannelli 6, Kovacevic 26, Lisinac 12, Grebennikov (L); Cavuto 11, Van Garderen 1, Nelli 3, Daldello. N.e. De Angelis and Codarin. Coach Angelo Lorenzetti.
CUCINE LUBE: Leal 20, Diamantini 2, Bruno 3, Juantorena 17, Simon 15, Sokolov 15, Balaso (L); Kovar, Cantagalli, D'Hulst, Cester 1. N.e. Marchisio, Massari, Stankovic. Coach Ferdinando De Giorgi.
REFEREES: Gnani from Ferrara and Lot from San Donà di Piave (Venezia)
SET DURATION: 32', 30', 32', 32', 20'; tot 2h and 26'.
NOTES: 3.642 spectators, proceeds of 67.965 euro. Itas Trentino: 16 blocks, 8 aces, 25 mistakes in serving, 11 mistakes in action, 54% in attack, 48% (20%) in reception. Cucine Lube Civitanova: 9 blocks, 11 aces, 23 mistakes in serving, 6 mistakes in action, 52% in attack, 59% (24%) in reception. Mvp Kovacevic.
Trentino Volley Srl
Press Office