Trento, 22 April 2019
Itas Trentino-Cucine Lube Civitanova 3-2, the match report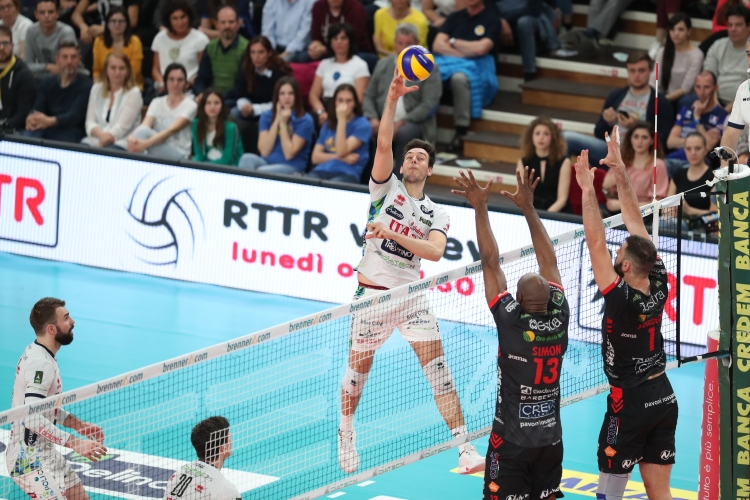 Here the commentary of match 3. The starting six are the usual ones: Giannelli in the service, Vettori as opposite, Kovacevik and Russell as spikers, Lisinac and Candellaro in the centre and Grebennikov as libero; Cucine Lube Civitanova has Bruno in the service, with Sokolov, Juantorena in the diagonal and Leal in position 4, Simon and Diamantini in the centre, Balaso as libero. At the beginning Cucine Lube is the one who takes the lead (3-5), taking advantage of some errors by the host team, that then catches up reaching a tie at 7 thanks to a block of Candellaro vs Sokolov, continuing with another block (8-7) by Vettori vs Juantorena.Cucine Lube does not give in and recovers at 12-14 thanks to two aces in a row by Sokolov, that forces Lorenzetti to call the time out. Coming back, Candellaro is the one who restores the balance (15-15), but this lasts just a few because the block by Bruno vs Lisinac and the one by Simon vs Russell offer a new +3 to Cucine Lube (15-18). De Giorgi's team tries and impose themselves in the final time thanks to this fundamental (16-20), but an excellent performance in the service by Cavuto (replacing Russell) and the counterattack by Kovacevic bring the team to a tie again (20-20). then an error of Kovacevic (21-23) and of Nelli in the service (23-25) concede the first set's victory to the opponents.
In the second set Lorenzetti confirms Cavuto as part of the game, thanks to the good performance; at first Itas seems to be disoriented (1-3), but suddenly they shape up thanks to the block of Lisinac and the ace of Kovacevic (9-6, 12-8). De Giorgi's time out refreshes his players' minds, who coming back have no such difficulties to catch up, thanks to the strong service by Juantorena and Simon (from 14-10 to 14-14). The match goes on point by point again, where both teams constanlty alternate themselves (16-17, 19-18).
In a great moment, Cavuto scores 2 points (21-19) and then Kovacevic blocks Sokolov for 23-20: this is a decisive point because Itas Trentino takes advantage and closes the set (1-1) thanks to the result 25-22.
The battle goes on and the two teams play very well both in service and in attack (8-6, 10-11); on court now there is Nelli as opposite, who had replaced Vettori during the previous set.
Cucine Lube is generous, Trento takes advantage and scores +2 (16-14) thanks to a block of Giannelli; Cucine Lube scores 3 points and ties 17-17 and then 19-19 and 22-22. A block by Cester is decisive for the set.
Itas Trentino doesn't give up and during the fourth set they keep fighting using everything they have at disposal (5-6, 10-12); in a moment of difficulty Lorenzetti lines up Vettori and Russell but what changes the situation is a Kovacevic's block (12-12).
Giannelli's block scores +2 (15-13, time out De Giorgi); after the break Cucine Lube ties 17-17 thanks to Leal and Sokolov. Trentino Volley, thanks to Candellaro in service, scores 22-19 but then Cucine Lube scores 23-22 (Vettori's mistake); Van Garderen closes the set 25-23 and let the tie break begin.
During the fifth set Lube does its best with Sokolov and Leal (3-5, 5-8);Itas keeps fighting until 8-9 with Kovacevic and Giannelli, then ties 12-12 and then scores one point thanks to a block by Russell against Juantorena (16-14).
Trentino Volley Srl
Press Office