Trento, 20 May 2019
BLM Group Arena, about ten players started training today with Lorenzetti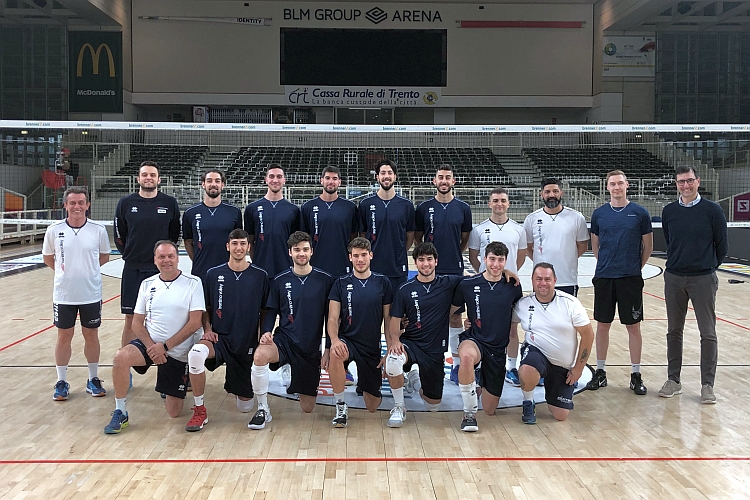 Two hours of technical training on BLM Group Arena's court, hosting some players after almost one month off, this has been the beginning of a period of training that, for the fourth year, Trentino Volley has decided to dedicate to its young players who have recently taken part in SuperLega, Series A2 and B.
Followed closely by Angelo Lorenzetti and his staff, starting from today ten players of Trentino Volley's youth team are starting working, thay have had some experiences in the main Italian championships: besides some well-known faces like Codarin and De Angelis, worth of mention are some players who have been protagonists of the Series A2 or B like Mazzone, Cristofaletti and Hueller. With them also some other young players, who have recently signed their first contract with Trentino Volley like the setter Alberini and the libero Santi (coming from Volley Treviso, a club with which Trentino Volley keeps collaborating for what concerns the youth team) or like the spiker Calarco, the middle hitter Romagnoli (both took part in the last championship in Grottazzolina) and the outside hitter Rosatti coming from Trentino region. During the following days the number of the players will increase, also some foreign athletes may add.
The first international addition will be a coach, coming from Skandinavia: the coach Janne Kangaskokko will follow the training together with Lorenzetti in this first week, he will than train Sastamala - a Finnish club that has already faced Trentino Volley during 2017 CEV Cup and with which our club is in good terms, as this circumstance proves.
The schedule for the next twenty-four days has many goals: the player will have the possibility to improve in technic and physical condition day after day, followed by a first-rate staff, that will also consider the qualities of each player. During the first week of training there will be, at least, one afternoon training session per day until Thursday; on Tuesday there will even be two (in the morning exercise also in the weight room), while on Friday the players will train between 9.30 a.m. and 11.00 a.m..
The roster of players training from today (in brackets role, birth year, club and championship played during this past season): Alessio Alberini (setter, 1998, Cantù – Serie A2), Simone Calarco (opposite spiker, 1995, Grottazzolina – Serie A2), Mirko Cristofaletti (spiker, 1996, Bergamo – Serie A2), Lorenzo Codarin (middle-blocker, 1996, Trento - SuperLega), Carlo De Angelis (libero, 1996, Trento - SuperLega), Andrea Hueller (setter, 1996, Olbia – Serie B), Tiziano Mazzone (spiker, 1995, Cuneo – Serie A2), Giulio Romagnoli (middle-blocker, 1998, Grottazzolina – Serie A2), Federico Rossatti (spiker, 1994, Arno Castelfranco – Serie B), Sebastiano Santi (libero, 1998, Bolzano – Serie B).
Trentino Volley Srl
Press Office