Trento, 27 May 2019
Klemen Cebulj has been introduced: "In Trento to grow and win"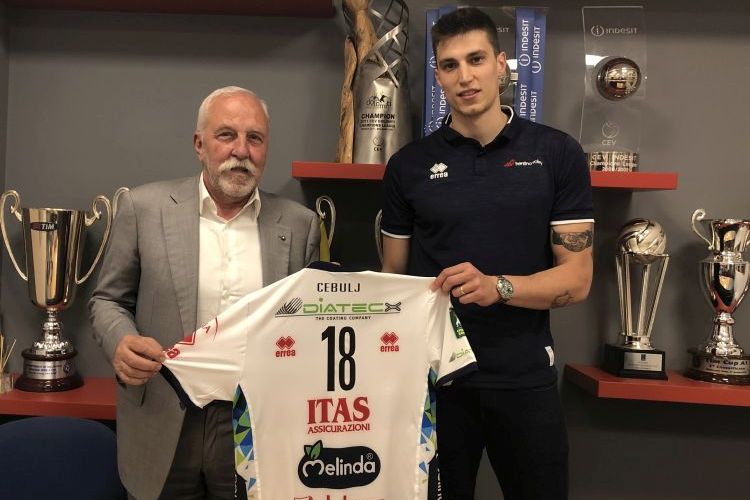 The presentation of Klemen Cebulj took place on the afternoon of Monday 27 May in the prestigious Trophies room of the Trentino Volley headquarters. After signing the contract with Trentino Volley in recent weeks, the 27-year-old Slovenian spiker was thus able to have the first contact with the local press but also with some representatives of the Itas Trentino fans.
"It was not difficult to choose Trento - said Cebulj - , all the players who have already passed through this team have only talked about it positively and accepting their advice was simple. The company is very serious and then I will have the opportunity to train with a technician like Lorenzetti, who inspires me a lot. He can give me a big help to become stronger and to grow as a player, but also as a man. Personally, I would like to be stronger in reception, a fundamental in which I have to improve so much and for this reason I have already spoken with Angelo about the work that we can develop together. Beyond all this, however, I know that I will have to give a lot to this team especially on the front line. I expect it to be a very busy and long season; I hope to be able to offer my contribution and make myself useful beyond the matches that I will actually play as a starter. The competition with Russell and Kovacevic will be something positive, because it will also allow us to have a great level of training. It's nice to be able to play with such strong athletes. I came here to grow, but also to win something. What? I don't make choices".
President Diego Mosna also welcomed the player: "Our summer market provides very few operations, we will keep the same framework, making only a few changes that we hope will further improve the quality of the roster. Among these there is certainly that of Cebulj - he explained - . With his arrival our team will be more stable and above all will have the opportunity to get less tired in the final stages of the season".
Trentino Volley Srl
Press Office