Trento, 02 June 2019
1st weekend of VNL 2019 achieved by Cavuto. 3-1 for the France of Grebennikov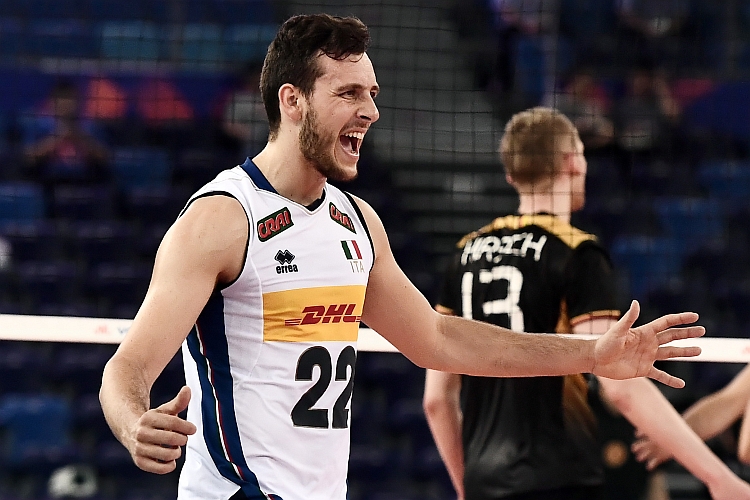 Many satisfactions for Trentino Volley players during the first weekend of Preliminary Round of Volleyball Nations League 2019: the final balance amounts to five victories out of six matches played by Itas Trentino, who have worn the respective national t-shirts. France, thanks to Jwnia Grebennikov, was the one to achieve a beautiful en plein: in Novi Sad he had the better in front of Russia, Serbia and Japan, reaching immediately the first position of the ranking, also due to his strenght in the second line. Here two remarks about three meetings for Italy, where the main surprise was Cavuto. Well supported by Giannelli in the service (for the occasion as captain), the spiker from Abruzzo has opened his debut in VNL with three excellent performances, which allowed Italy to make Iran suffer and to beat Germany and China, match during which Itas gained, on the whole, 18 points. During the match against the German team, it was not easy for Candellaro as well. This will be instead a weekend of rest for Lisinac, Kovacevic and Russell.
The next weekend Italy will play in Ufa (Russia) vs the host team, Portugal and Usa; the France of Grebennikov will compete in Ningbo vs Japan, Bulgaria and Poland.
Here the statistics of the four players of Trentino Volley during the first weekend of Volleyball Nations League 2019.
DAVIDE CANDELLARO (central, Italy)
Friday, Italia-Iran 1-3: 0 points
Saturday, Italy-Germany 3-0: 5 points (3 attacks, 1 block, 1 ace), 42% in attack
ORESTE CAVUTO (spiker, Italia)
Friday, Italy-Iran 1-3: 5 points (5 attacks), 50% in attack (5 out of 10)
Saturday, Italy-Germany 3-0: 13 points (9 attacks, 4 blocks), 50% in attack (9 out of 18)
Sunday, China-Italy 0-3: 5 points (4 attacks, 1 block), 28% in attack (4 out of 14)
SIMONE GIANNELLI (spiker, Italy)
Friday, Italia-Iran 1-3: 8 points (6 attacks, 1 block, 1 ace), 75% in attack (6 out of 8),
Saturday, Italy-Germany 3-0: 5 points (3 attacks, 1 block, 1 ace), 100% in attack (5 out of 5)
Sunday, Cina-Italy 0-3: 8 points (2 attacks, 2 blocks, 4 aces), 100% in attack (2 out of 2)
JENIA GREBENNIKOV (libero, France)
Friday, France-Russia 3-1: 0 points
Saturday, Serbia-France 1-3: 0 points
Sunday, France-Japan 3-1: 0 points
Trentino Volley Srl
Press Office