Trento, 16 June 2019
3rd weekend of VNL 2019, four victories out of six matches for Trentino Volley's players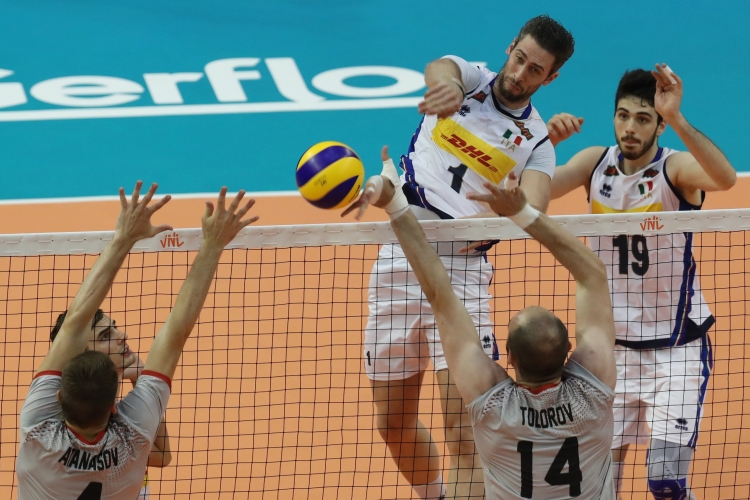 3rd weekend of VNL 2019, four victories out of six matches for trentino volley's players
As it has already happened during the second weekend of Preliminary Round of Volleyball Nations League 2019, also in the third one, four Trentino Volley's players won four times out of 6 matches. On full display with Candellaro, Giannelli and Cavuto, in Varna, Italy (Bulgaria) has won three times in four sets, against Japan, Australia and Bulgaria itself. During today's match, our middle hitter got attention (10 out of 11 in the first set!), he has not had room enough in which to shine in the first two challenges of the weekend.
Three matches for Jenia Grebennikov instead, who has not had much satisfaction in Cannes: France won just the first match (against Germany) but lost the ones against Argentina and the USA.
In the current rankings Italy is on the fourth place, right before France, which is on the fifth now. France's position would still allow it to take part in the Final Six of Chicago in mid July. The Italian team will take the field in Milan at the Allianz Cloud, on next weekend to face Serbia (Lisinac and Kovacevic may be on the court), Argentina and Poland, whereas France will play in Ardabil (Iran) against Australia, Portugal and Iran itself.
Below the statistic of the four players of Trentino Volley who are playing in the third weekend of Volleyball Nations League 2019

DAVIDE CANDELLARO (middle-blocker, Italy)
Friday, Japan-Italy 1-3: 0 points
Saturday, Australia-Italy 1-3: 0 points
Sunday, Bulgaria-Italy 1-3: 12 points (10 attacks, 2 blocks), 90% in attack (10 out of 11)

ORESTE CAVUTO (spiker, Italy)
Friday, Japan-Italy 1-3: 12 points (9 attacks, 3 blocks), 47% in attack (9 out of 19)
Saturday, Australia-Italy 1-3: 1 point (1 block), 0% in attack (0 out of 10)
Sunday, Bulgaria-Italy 1-3: 1 point (1 attack), 100% in attack (1 out of 1)

SIMONE GIANNELLI (setter, Italy)
Friday, Japan-Italy 1-3: 2 points (1 block, 1 ace), 0% in attack (1 out of 5),
Saturday, Australia-Italy 1-3: 0 points
Sunday, Bulgaria-Italy 1-3: 3 points (1 block, 1 ace), 0% in attack (0 out of 1)

JENIA GREBENNIKOV (libero, France)
Friday, France-Germany 3-1: 0 points
Saturday, France-Argentina 1-3: 0 points
Sunday, France-USA 1-3: 0 points
Trentino Volley Srl
Press Office