Trento, 25 June 2019
Another confirmation in the Itas Trentino roster: Carlo De Angelis gets his contract renew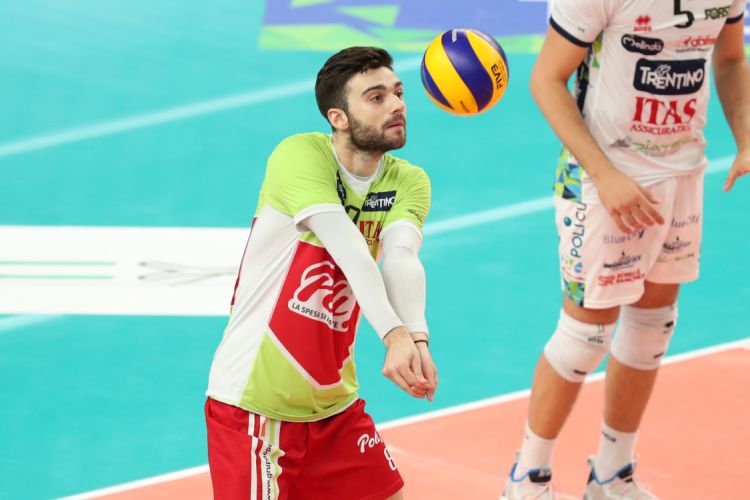 Also in the season 2019/20 Itas Trentino roster of SuperLega can count on a libero who grew up in the Young group. The alter ego of Jenia Grebennikov in the top role in the second line will be indeed, once again, Carlo De Angelis. The agreement for the renewal of the contract for one year with the player from Lazio has been signed in the last hours, allowing Angelo Lorenzetti to have at his disposal an athlet he has been known and appreciating for a long time and whom he has worked also in the last weeks with. For De Angelis the season starting the next October will be the ninth one in Itas Trentino; after arriving in the city in 2009, he was protagonist of the victory of ten prizes with Itas, both in the Young and in the first team.
"I am glad about the renewal of another "young" man with good qualities and important potentialities – so said the President Diego Mosna - . I am sure that his confirmation will be beneficial both for himself and the team itself".
"I am happy for having the opportunity to play with Itas also during the next season, team that adopted me already since I was 13 – explained Carlo De Angelis – . After many years I feel a real trentino. So I am very looking forward to start the new season, even if actually there is still much time left; from the end of August I will go on with the technical training I already started one year ago with Lorenzetti, and that I brought forward also during last May in the post season activity. Having such a great example in front of me, who is Grebennikov, will allow me to further improve".
The sheet
CARLO DE ANGELIS
born in Formia (Latina), on the 10th of January 1996
190 cm, role: libero
2009/10 Trentino Volley Young
2010/11 Trentino Volley Young
2011/12 Trentino Volley Young and D
2012/13 Trentino Volley Young and C
2013/14 Trentino Volley Young and B1
2014/15 Trentino Volley Young and B1
2015/16 Diatec Trentino SuperLega
2016/17 Caloni Agnelli Bergamo A2
2017/18 Taiwan Excellence Latina SuperLega
2018/19 Itas Trentino SuperLega
2019/20 Itas Trentino SuperLega
Awards
1 World Club Cup (2018)
1 CEV Cup (2019)
2 Junior Leagues (2014, 2015)
2 Italian Championships Under 19 (2014, 2015)
1 Italian Championship Under 17 (2013)
2 Italian Championships Under 16 (2012 and 2011)
1 Boy League (2010)
1 Trophy of the Regions (2012)
1 Trophy of the Regions of Beach Volley (2013)
With Trentino Volley
Third season in the first team
Debute on the 28/10/2015 (Monza-Trento 1-3)
30 participations (26 in 2015/16, 4 in 2018/19)
Trentino Volley Srl
Press Office