Trento, 02 July 2019
Simone Giannelli extends his contract with Trentino Volley until 2023!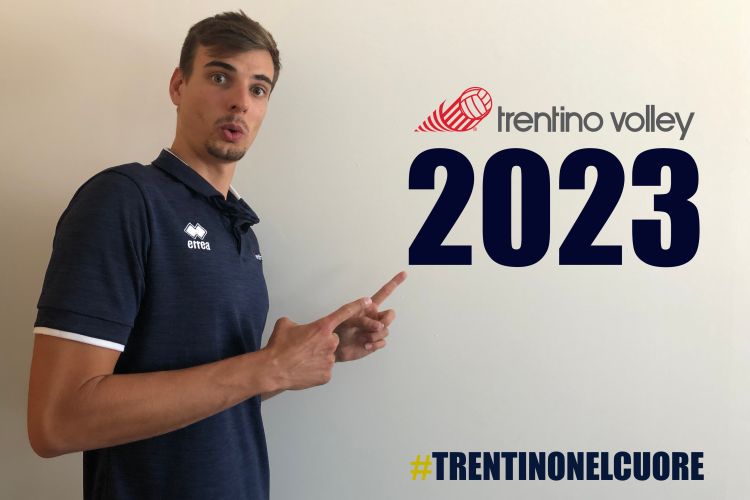 The most important deal in the 2019 Trentino Volley transfer market is… Simone Giannelli! Yellow-blue Club reached an agreement for a contract extension with the Captain and setter: the greatest talent of the Yellow-blue youth academy is going to play with Itas Trentino jersey until at least June 30th 2023, in the team that discovered him and helped him become a great player and a world class setter. The present and future of Itas Trentino will still be in Giannelli's hands, writing new unforgettable pages of history and breaking more records. Not only he's the only player who's ever won eight national titles as starting six (Youth academy and First team), Simone is also the youngest player to debut in Serie A with Trento and the youngest Captain ever. He now has the chance to break the record of most caps for Trento, set together by Birarelli and Colaci at 345, with about a hundred matches left (243).
"For Trentino Volley this is undeniably the most important deal not only of 2019 summer transfer market, probably of the last few years – explained President Diego Mosna - . His contract extension guarantees stability in the key role of setter, as well as Captain, which is fundamental. As a supporter and as representative of the Club I am delighted of this choise because Simone is the best Captain a crew could hope for, with natural leadership skills and transparency in dealing with the Club. I have almost never met a better person: a kid who quickly turned into a great man. It is a matter of pride that his development as a player started and continues with Trentino Volley; I wish he stays with us well after 2023".
"Continuing my career where I grew up both makes me proud and happy – said Simone Giannelli - . Giving the news fills me with happiness, I am looking forward to wearing my jersey number 9 again and play for new important goals; I want to honour it in the best way, never forgetting how much I owe to this Club. I'd like to thank President Mosna for always believing in me, the staff, the supporters for never leaving my side and helping me improve. Next season's team will also be young and competitive; we might not start as the favourite but we like to work hard and we have what it takes to close the gap".
SIMONE GIANNELLI
born in Bolzano, on August 9th 1996
200 cm, role setter
2009/10 Neugries Bolzano youth
2010/11 Trentino Volley youth
2011/12 Trentino Volley youth and C
2012/13 Trentino Volley youth and B2
2013/14 Trentino Volley youth and B1
2014/15 Diatec Trentino SuperLega
2015/16 Diatec Trentino SuperLega
2016/17 Diatec Trentino SuperLega
2017/18 Diatec Trentino SuperLega
2018/19 Itas Trentino SuperLega
2019/23 Itas Trentino SuperLega
Palmares
1 Club World Championship (2018)
1 CEV Cup (2019)
2 Italian National Championship (2013, 2015)
1 Junior League (2014)
1 Under 19 Italian Championship (2014)
1 Under 17 Italian Championship (2013)
2 Under 16 Italian Championships (2012 and 2011)
1 Boy League (2010)
1 Trofeo delle Regioni (2012)
Best setter CEV Champions League 2016
Best italian player Junior League 2014
Best Under 17 italian player 2013
Best Under 16 Italian player 2011 and 2012
Best setter Club World Championship 2018
National team
119 caps with Italy
2016 Olympic Games Silver Medal
2017 World Grand Champions Cup Silver Medal
2015 European Championship Bronze Medal
Best setter European Championship 2015
Best setter World League 2016

With Trentino Volley
Debut on 27/10/2013 (Ravenna-Trento 0-3)
243 caps (1 in 2013/14, 40 in 2014/15, 48 in 2015/16, 56 in 2016/17, 48 in 2017/18, 50 in 2018/19)
873 points (0 in 2013/14, 54 in 2014/15, 165 in 2015/16, 260 in 2016/17, 185 in 2017/18, 209 in 2018/19)
Trentino Volley Srl
Press Office