Trento, 18 September 2019
Itas Trentino won 3-2 against Bergamo during today's joint training at Sanbapolis Hall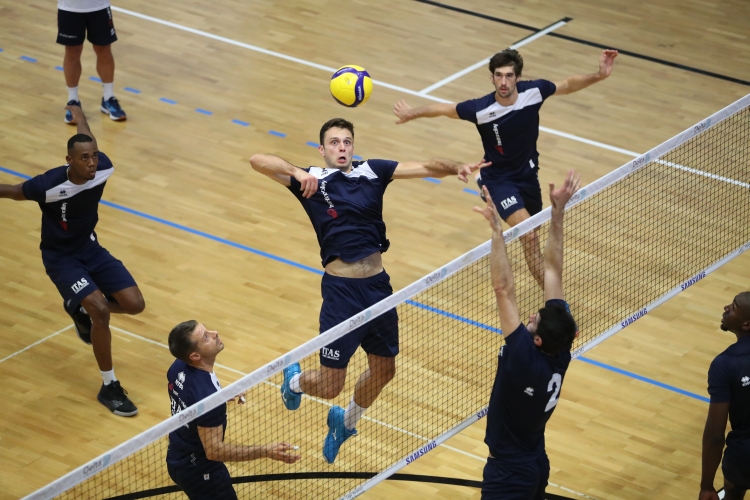 The physical, technical and tactical improvement of Itas Trentino goes on at some pace. Today's joint training with Serie A2 team Olimpia Bergamo, in the middle of the fifth week of training showed the team's progress in every way.
Unlike the previous two non-official tests with Verona and San Donà, this time Angelo Lorenzetti proposed to the already available players an actual game, without specific exercises to break up the rhythm between sets. The result rewarded the World Champions, who got their first victory of the 2019/20 season, defeating the other team at the tie break, after their comeback attempt (from 2-0 to 2-2); regardless of the result, which has only little relevance in the pre-season, what was appreciated was the serve (successfully executed nine times) and the quality of the attack (48% of the team) also because of the type of solutions that has been adopted. Among the individuals, on the scoreboard the 22 points of Vettori stand out (with 4 blocks, one ace and 47% attack efficiency) but also Codarin's 18 points (7 blocks and 67% in the first set) and the 17 points of Sosa Sierra, who is more and more at ease in position 4 thanks to the understanding with setter Daldello.
After two and a half hours of work at Sanbapolis gymnasium, Itas Trentino will be back at the BLM Group Arena on Thursday for a session with ball at lunchtime and another one in the weight room in the evening. The fifth week will end with the training of Friday afternoon on the main court and Saturday morning back in the weight room.
Below the scoreboard of the non-official friendly match played today in Trento.

Itas Trentino-Olimpia Bergamo 3-2
(25-17, 25-23, 19-25, 22-25, 15-9)
ITAS TRENTINO: Parodi 10, Codarin 18, Vettori 22, Sosa Sierra 17, Acuti 3, Daldello 1, De Angelis (L); Michieletto 4. N.e. Djuric and Pizzini. Coach Angelo Lorenzetti.
OLIMPIA BERGAMO: Della Lunga 13, Alborghetti 2, Pereira Da Silva 16, Tiozzo 10, Erati 7, Garnica 3, Fusco (L); Preti 16, Gritti, Zonta, Saturnino. N.e. Battaglia. Coach. Alessandro Spanakis.
SET TIME: 21', 24', 18', 26', 13'; tot 1h and 42'.
NOTE: Itas Trentino: 14 blocks, 9 aces, 19 mistakes by serving, 12 mistakes by attacking, 48% attack efficiency, 54% (32%) receiving efficiency. Olimpia Bergamo: 6 blocks, 8 aces, 18 mistakes by serving, 12 mistakes by attacking, 43% attack efficiency, 46% (28%) receiving efficiency.
Trentino Volley Srl
Press Office