Trento, 20 September 2019
A month before the start of the 2019/20 Superlega: all the useful information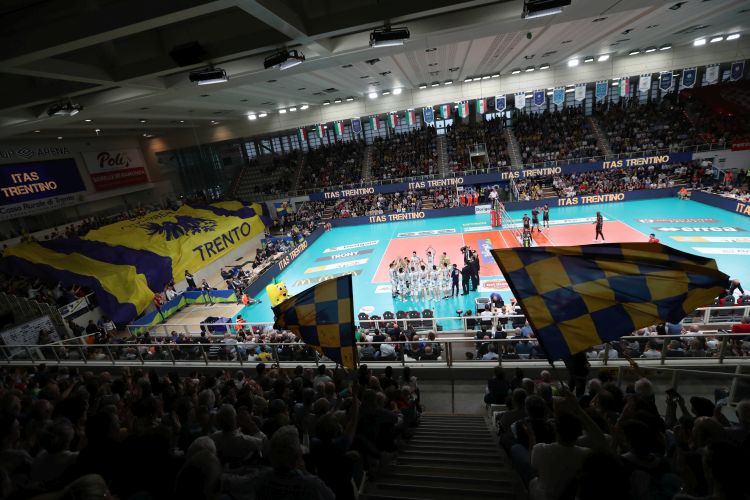 Exactly in a month will start the 2019/20 SuperLega Credem Banca: the first day of regular season – the twentieth for the Trentino Volley – will be on Sunday, the 20 October 2019, date in which the Trentino Volley will be playing in Ravenna against the Consar Ravenna.
Below, all the main information to be known in view of the start of the season.
SEASON TICKETS
It is possible to sing up for the season tickets at the office of Trentino Volley, in G.B. Trener 2 Street in Trento (telephone 0461 421377, e-mail info@trentinovolley.it) everyday, from Monday to Friday, from 8 to 12 in the morning and from 14 to 18 in the evening. The card entitles you to enter at the BLM Group Arena for the twelve home matches of the regular season, the three home matches of the first stage of the 2020 CEV Champions League and one extra official match. The season ticket can be signed up whenever you want in Internet by clicking
www.trentinovolley.it/abbonamentionline.
This are the prices for the season 2019/20:
VIP 470,00 €
BEST 270,00 €
REDUCED BEST 230,00 €
TERRACES 230,00 €
REDUCED TERRACES 200,00 €
CURVA 150,00 €
REDUCED CURVA 130,00 €
CURVA GISLIMBERTI 110,00 €
CURVA UNDER 20 110,00 €
The reduced prices will be applied to the under 16, to the over 65 in every section (except VIP) and for the promotion ''Lui&Lei'' (two reduced season tickets only for the terraces)
For more information: www.trentinovolley.it/abbonamenti
PROGRAM OF THE PRE-SEASON MATCHES
This is the detailed program of the pre-season matches of the Trentino Volley:
Wednesday 25 September, PalaRicolt of Sedico (Belluno) - at 7 pm
Kioene Padova-Itas Trentino (official match)
Tuesday 1 October, PalaBanca of Piacenza - time to be defined
Gas Sales Piacenza-Itas Trentino (joint training)
Thursday 3 October, BLM Group Arena di Trento - at 6.30 pm
Itas Trentino-BDO Hassrode Leuven
Excluding the above dates, the team trains every day alternating weight sessions with technical activities with the ball at the BLM Group Arena from Monday to Saturday. All technical sessions are open to the public; the detailed weekly programme is available at any time at www.trentinovolley.it/allenamenti.
THE PROGRAM OF THE FIRST DAY OF SUPERLEGA CREDEM BANCA 2019/20
This is the framework of the matches of the first day of regular season of SuperLega Credem Banca 2019/20:
Saturday 19 October - 6 pm
Veron Volley Monza-Allianz Milan
Sunday 20 October - 6 pm
Lube Civitanova-Gas Sales Piacenza
Leo Shoes Modena-Kioene Padova
Calzedonia Verona-Globo Banca Popolare del Frusinate Sora
Consar Ravenna-Itas Trentino
Top Volley Latina-Sir Safety Conad Perugia
Trentino Volley Srl
Press Office