Trento, 20 September 2019
Between 16 and 22 December Trentino Volley in Battisti Square in Trento with a stand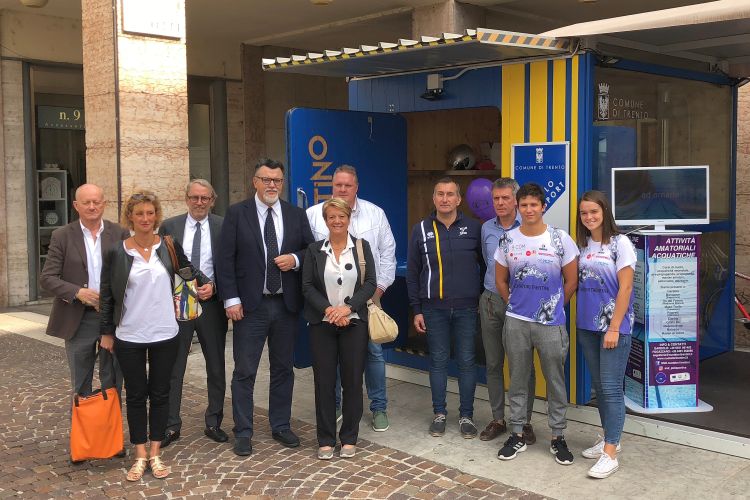 After the success they had in the first edition (season 2018/19) Trentino Volley come back to the center of Trento with its own promotional stand, which is located in Piazza Cesare Battisti, even in the days immediately before Christmas 2019. Their presence in the heart of the city during the period of Christmas markets is part of the initiative promoted by the Municipality of Trento and called "L'Angolo dello Sport", where all the sports clubs of the city that have requested will take turns in the space set up. The Municipal Administration presented the second edition of the project to the media and many personalities from the world of sport, including General Manager Bruno Da Re, at Palazzo Geremia this morning.
"Congratulations to the municipality of Trento for this initiative that has also an importance at cultural and social level - said the manager of Trentino Volley- . The alternation in this space of realities of any level will make everything even more interesting and particular. We would like to thank the Sports Councillor Tiziano Uez for having imaged the idea and then for having realized it. As Trentino Volley we booked the week before Christmas long ago because since the first edition it seemed to us that it is the best period to to strengthen even more the relationship with the people of Trento and with all those, and there will be many, who will come to visit the city. Moreover, that week represents for us a period of intensive activity also at BLM Group Arena".
All fans will find gadgets, information material and the full range of gialloblù merchandising at the stand of Trentino Volley.
Trentino Volley Srl
Press Office