Trento, 10 October 2019
This we Itas Trentino will be in Mirandola for a four-way tournament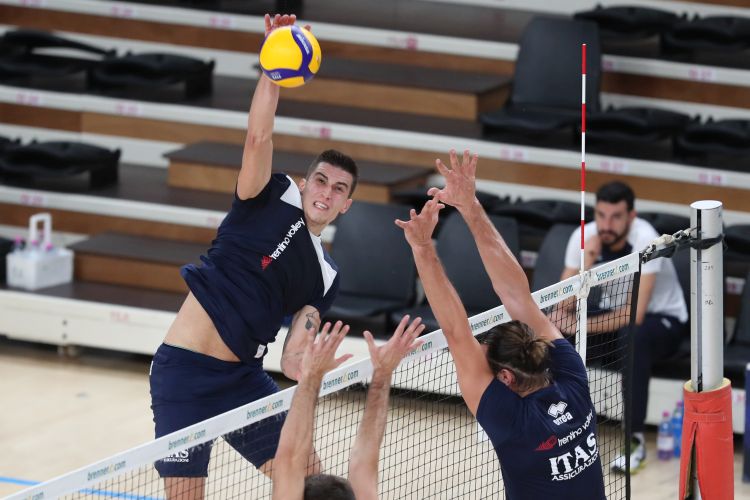 On Friday 11th and Saturday 12th in Mirandola (Modena), Itas Trentino will face the last double test of its pre-seasonal preparation. After more than fifty days of training, the majority of which with only part of the team, the four-way friendly competition "Gruppo Ponzi Investigazioni - National Volley Cup", which will entirely take place in the sports hall "Marco Simoncelli" in Ravenna, will be the occasion for a general test before the beginning of SuperLega Credem Banca 2019/20 (on the 20th of October in Ravenna).
On Friday at 8 pm the team will play in the second semi-finals against Calzedonia Verona, which will take place immediately after the match between Cucine Lube Civitanova and Kemas Lamipel Santa Croce (Serie A2). The match will give Angelo Lorenzetti the opportunity to verify the preparation of eleven team members (only Candellaro and Russell won't be there) and particularly that of the last players who joined the group. Giannelli, Grebennikov, Cebulj, Kovacevic and Lisinac have participated in only a few trainings with the team, but they will likely take the field to improve their understanding and their physical condition. Depending on the result against Verona (that will play without Jaeschke; the team just came back from France where it faced Olympiacos and Paris Volley in a friendly), on Saturday 12th Itas Trentino will compete in either the finals for the third place (at 2:45 pm) or the finals at 5:30 pm against Civitanova or Santa Croce.
The tickets for the event cost €15 each for a single day and €25 each for the whole weekend. You can make a reservation by writing to info@sportmore.it and collect the tickets at the ticket office of the facility on the day of the match.
Trentino Volley Srl
Press Office