Mirandola (Modena), 11 October 2019
Such a good Itas Trentino in mirandola: Calzedonia Verona defeat 3-0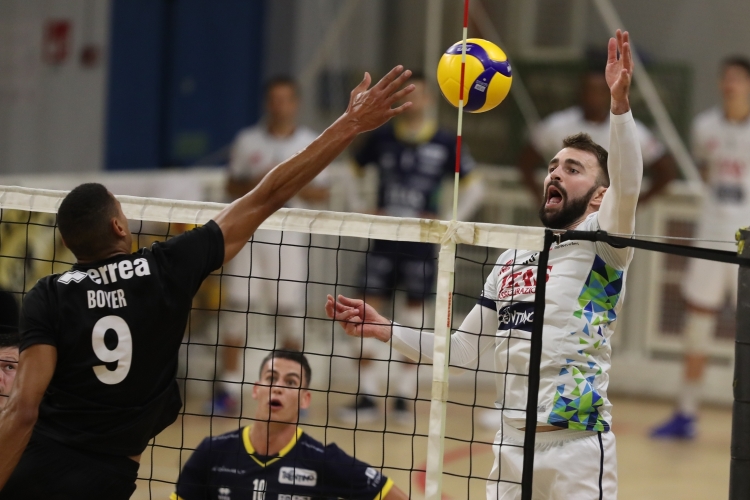 The quadrangular preparation called "Gruppo Ponzi Investigazioni - National Volley Cup" starts with an encouraging victory for Itas Trentino in Mirandola. In the first of the last two pre-championship tests planned for the weekend, the gialloblù team win the Emilian-style derby with Calzedonia Verona 3-0.
Apart from the result, that give excitement to the Trentini, the most important indications come from the three sets of the match played at PalaSport "Marco Simoncelli". Even if all the players are not available yet (Candellaro and Russel will arrive on October 17 in Trento, when Japanese World Cup ends), the team led by Angelo Lorenzetti confirme to own a specific identity, particularly on block (13 the winning ones, with 4 personal Codarin) and in the correlation of this fundamental with the defense (Verona has closed with 26% in attack). On an individual level, the double-digit table of four players should be noted: Vettori best scorer with 15 points and 56% to goal, Cebulj 12 and the Serbian couple Kovacevic-Lisinac with 10.
On Saturday afternoon the last official match for the pre-championship preparation of Itas Trentino: at 5:30 pm the moment of confrontation with Cucine Lube Civitanova (winner 3-0 of the first semi-final of the quadrangular) that will assign the "Gruppo Ponzi Investigazioni - National Volley Cup".
Show below the table of the second semifinal of ''Gruppo Ponzi Investigazioni – National Volley Cup'', played tonight at the Palasport Marco Simoncelli in Mirandola.
Calzedonia Verona-Trentino Volley 0-3
(23-25, 19-25, 19-25)
CALZEDONIA VERONA: Marretta 2, Birarelli 9, Boyer 9, Asparuhov 8, Solé 3, Spirito 1, Bonami (L); Francisckovic, Kluth. N.e. Cester, Zanotti, Donati and Chavers. Coach Radostin Stoytchev.
ITAS TRENTINO: Vettori 15, Cebulj 12, Lisinac 10, Giannelli 2, Kovacevic 10, Codarin 5, Grebennikov (L); Micheletto N.e. Daldello, De Angelis, Djuric, Sosa Sierra. Coach Angelo Lorenzetti.
REFEREES: Selmi from Modena and Cerra from Bologna
DURATION SET: 30', 25', 19'; total 1 hour.
NOTES: around 250 spectators. Calzedonia Verona: 6 blocks, 3 aces, 12 mistakes in service, 8 mistakes in actions, 26% in attack, 47% (26%) in reception. Trentino Volley: 13 blocks, 4 aces, 17 mistakes in service, 6 mistakes in actions, 43% in attack, 54% (28%) in reception.
Trentino Volley Srl
Press Office