Mirandola (Modena), 11 October 2019
Itas Trentino-Calzedonia Verona 3-0 in Mirandola. The match report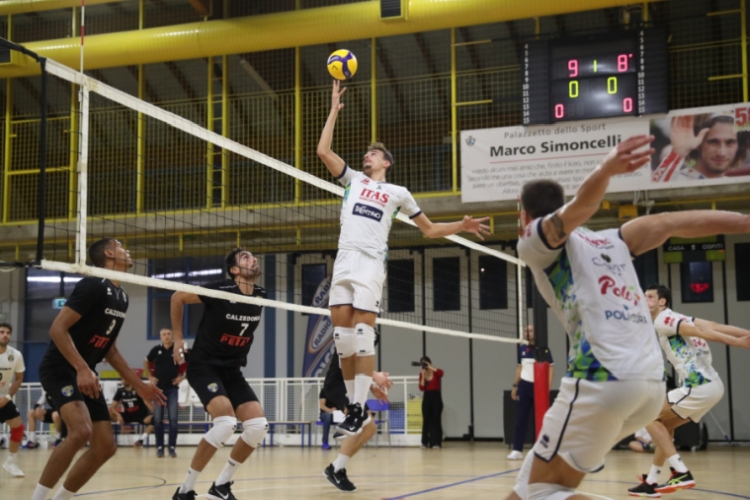 The match report. Angelo Lorenzetti proposes the best team line based on the availability of the players: Giannelli setter, Vettori opposite spiker, Cebulj and Kovacevic hitter spikers, Codarin and Lisinac middle-blockers, Grebennikov libero. On the other side Calzedonia proposes: Spirito diagonale setter to Boyer, Marretta and Asparuhov hitter spikers, Solé and Cester middle-blocker, Bonami libero.
The start of the match seems to be equal, then the error of Boyer brings Trento ahead (9-7); Verona equalizes immediately (9-9) but then the Serbian couple get their money's worth. The attacks of Kovacevic and the blocks of Lisinac give a great advantage (15-10), but Calzedonia recovers thanks to Asparuhov (16-15). The block of Codarin marks +3 (19-16), Itas Trentino held on to its advantage (23-20, 24-22) and concludes the first set with 25-23; resolve Uros.
In the second set the Lorenzetti's team tries immediately to take the lead 5-3, but the Birarelli's block on Codarin takes back the match into equilibrium (5-5), that goes on longer (10-10, 12-12). A Giannelli's block on Marretta opens again the range (14-12); a lead that Kovacevic defends to the sound of attacks (16-14) and that Cebulj increases in the final part with a lethal turn at the service (22-18, also two direct aces). So, the 2-0 arrives already at 25-19, with a block of Codarin. The third set stars with the teams playing point to point (5-5, 9-9), but, with Trentino Volley that commits various mistakes and so Verona takes the first lead (9-11, Lorenzetti's time out). A Lisinac's ace recreates the equilibrium (13-13), then, none of the two teams can, seriously, run away (16-17, 18-18) until the final rush, decided by Cebulj and Kovacevic (22-18). The match ends 3-0 (25-19).
Trentino Volley Srl
Press Office