Trento, 13 October 2019
Towards the debut in 2019/20 SuperLega, Giannelli: "We are working to be ready"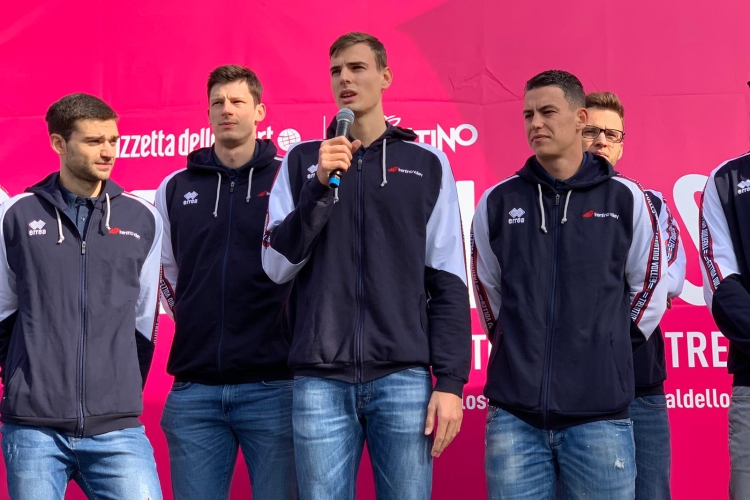 "I can't wait to begin another season wearing the Trentino Volley jersey." Only one week is left, then Captain Simone Giannelli will start his eleventh season with the Trentino Volley, the sixth one in the first team after five seasons in the youth sector. On the occasion of his presence at the 2019 "Festival dello Sport" in Trento, he was interviewed by Trentino Volley Tv during which he outlined the team's conditions.
"We have been starting to train with the almost complete team for a few days and the four-sided match in Mirandola has been very useful from this point of view in order to understand where we are and to find, at least partially, our chemistry and our way of playing the game", he explained. "The matches against Verona and Civitanova have given us some important indications, but we know that next week is an even more crucial week as it is essential to make us improve from all points of view, both physical and technical, and to be already in good condition next Sunday against Ravenna. I'm happy to have had the last two weeks to make a training base, which happened very few times in the past. Only the volleyball pitch, however, can say whether I have actually worked well or not".
"Cebulj's insertion into the squad is already well underway, but after all, it couldn't have been any other way since he is a great player, who needs little time to find an understanding with his teammates - concluded Giannelli – . I'm happy with his arrival because it could be an added value for our team compared to last season".
The resumption of training is scheduled for Tuesday afternoon at the BLM Group Arena.
Trentino Volley Srl
Press Office