Mirandola (Modena), 12 October 2019
Preparation concluded with the victory of Mirandola's tournament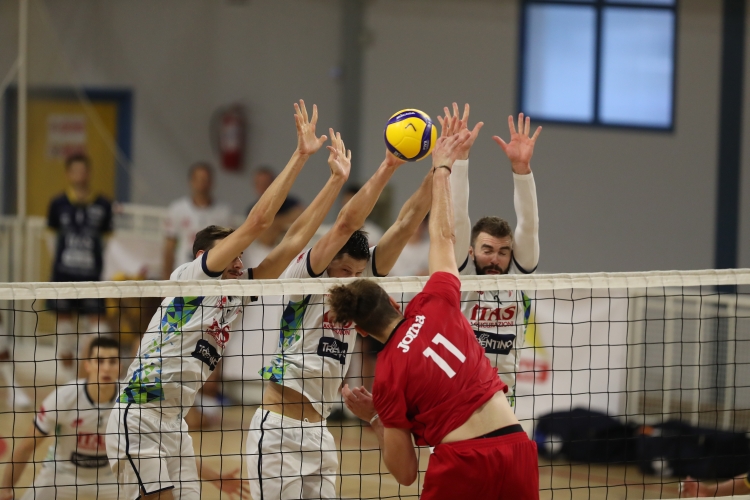 Itas Trentino concludes its preseason with the prestigious victory of the "Gruppo Ponzi Investigazioni-National Volley Cup" four-way competition. The last test before the yellow-blue debut in SuperLega Credem Banca 2019/20, scheduled in eight days in Ravenna, has seen the team achieve success at tie-break against Cucine Lube Civitanova (Italian and European champion) in the final of the tournament played over the weekend in Emilia. The performance, even before the result, confirmed that Lorenzetti's team has taken the right path to approach positively the first official commitments of the new season; against an opponent still without several important players (Bruno, Leal, Anzani and Balaso), Itas Trentino showed some excellent volleyball moments (especially during reception and attack on the side out phase) and was good at not give up.
The 3-2 success achieved thanks to an excellent fifth set is signed by the trio made up of Cebulj (21 points and 68% in attack), Vettori (18 with 49%) and Kovacevic (17 with 50%), but in the middle also Lisinac played very well (14 with 73% in the first half) as Grebennikov in the second line (74% in reception).
Below the scoreboard of the Final of the "Gruppo Ponzi Investigazioni - National Volley Cup", played tonight at the Palasport Marco Simoncelli of Mirandola.

Cucine Lube Civitanova-Itas Trentino 2-3
(27-25, 22-25, 23-25, 25-14, 13-15)
CUCINE LUBE CIVITANOVA: D'Hulst 2, Juantorena 9, Diamantini 9, Rychlicki 23, Kovar 12, Simon 17, Marchisio (L); From the Corso, Massari. Neither. Trillini, Ingrosso and Gonzi. Coach Ferdinando De Giorgi.
ITAS TRENTINO: Codarin 4, Vettori 18, Cebulj 21, Lisinac 14, Giannelli 4, Kovacevic 17 Grebennikov (L); Michieletto 1, Sosa Sierra, Djuric 2, Daldello. Neither. De Angelis. Coach Angelo Lorenzetti.
REFEREES: Piperata from Bologna and Laghi from Bagnocavallo (Ravenna).
DURATION SET: 31 ', 29', 32 ', 23', 14 '; tot 2h and 9 '.
NOTES: about 500 spectators. Kitchens Lube Civitanova: 12 blocks, 10 ace, 16 serving mistakes, 5 action mistakes , 45% in attack, 50% (28%) in reception. Itas Trentino: 7 blocks, 5 aces, 24 serving mistakes, 8 action mistakes, 53% in attack, 57% (27%) in reception.
Trentino Volley Srl
Press Office