Trento, 29 October 2019
A greener BLM Group Arena thanks to the project with Acqua Pejo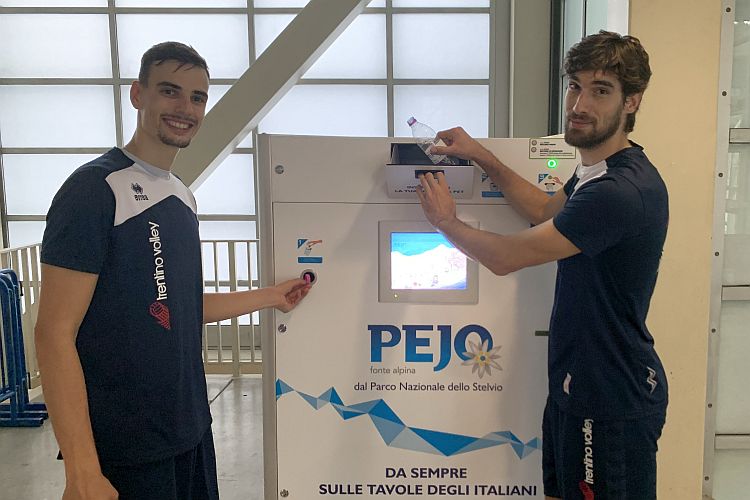 This just in. According to a survey conducted by Legambiente and Sole 24 ORE, Trento is the greenest city in Italy. Trentino Volley is ready to make every effort to keep it so, starting from its home: the BLM Group Arena.
Jointly with its historical sponsor Acqua Pejo and because of Captain Simone Giannelli and Luca Vettori's particular concern, the Club had a PET compactor for bottles and caps installed at the Arena in the last hours. The goal is to make the recycling of plastic even more efficient, and by doing so even to reduce the CO2 emissions. The item, provided by Acqua Pejo, will be used by the players themselves during the week (they have tried to reduce the amount of plastic bottles they use since the beginning of the pre-championship activities) and by the audience on occasion of official matches. It is going to be possible to bring to the compactor (installed near one of the entries) all plastic objects used to quench the thirst during the matches.
It is as big as a fridge, but it is able to reduce by 90% the dimensions of the plastic waste, drastically reducing costs of storage, of transport and of recycling and reuse of the material. In fact the material can be sent directly to the processing industries, saving a lot of money and a lot of time. In an historical moment in which it is becoming more important for the consumers to use eco-friendly packaging, this initiative aims to create awareness about the issue of plastic recycling, in particular PET (polyethylene terephthalate), a valuable plastic material that meets the severe hygienic requirements for water conservation.
To promote the use of this ecological item, Trentino Volley has also programmed an amusing prize competition. For each bottle inserted, the compactor will print out a coupon on which it will be immediately shown if you have won two free tickets for a Trentino Volley's match. If you are lucky you will freely enter the BLM Group Arena on occasion of the next appointment.
"This is meant to be a signal that we want to be more environmentally friendly, aiming to make our audience more aware of the recycle of plastic bottles – declared Trentino Volley's President Diego Mosna - . So I want to compliment our Captain Simone Giannelli and Luca Vettori for having played an active role in the project's development, and of course Acqua Pejo for making it possible".
Pejo mineral water flows from the sources of Pejo Valley at 1,393mt a.s.l. at the foot of the Ortles-Cevedale mountain group glaciers, in the naturalistic area of the Stelvio National Park in the province of Trento. This is where Pejo source is located, in the uncontaminated and protected environment of the Park, at a safe distance from polluted air, industrial sites and urban areas.
Trentino Volley Srl
Press Office