Modena, 24 November 2019
Leo Shoes Modena-Itas Trentino 3-1, the report of the match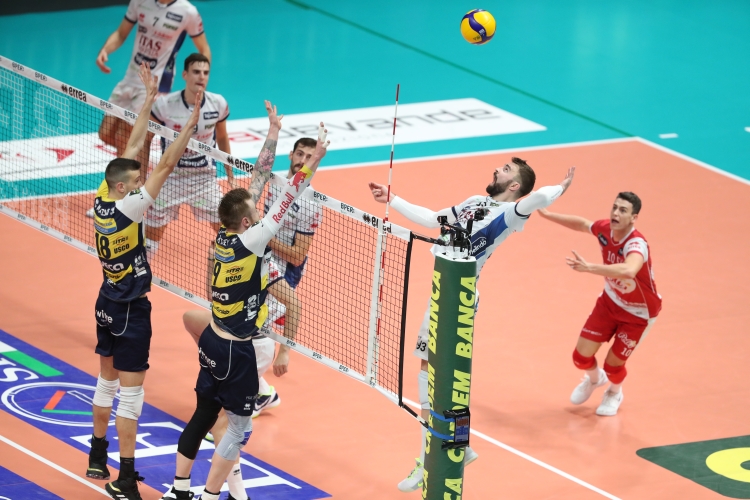 The chronicle of the match. With the sold out at the PalaPanini, the Trentino Volley shows up full, allowing Lorenzetti to chose for the starting six: Giannelli as setter, Vettori as opposite hitter, Kovacevic and Russell as outside hitters, Lisinac and Candellaro as middle hitters, Grebennikov as libero. The Leo Shoes answers with Christenson as setter, Zaytsev as opposite hitter, Anderson and Bednorz as outside hitters, Holt and Mazzone as middle hitters, Rossini as libero. The beginning of the match is in the sign of Modena, that with Zaytsev roars immediately for the 3-5, then transformed into 4-7; Trento has the merit of not falling apart and of stay-ing on the path of the opponent (7-9, 9-11) before reaching him on the 15-15 with an ace of Russell and a pipe of Kovacevic. The hosts try to run away again (15-17) but Trentino Volley grabs the tie at 19. With the service of Vettori and Russell, Trentino Volley builds the first lead (22-21 and 24-22), that then armours with Kovacevic (25-22).
Modena tries to redeem itself during the second set by restarting at full speed with Zaytsev and Anderson (4-7, 8-12); the Lorenzetti's team suffers in the reception and, more in gen-eral, in phase of turns out but with the block of Lisinac on Anderson it gets close (11-13) and evens the score on 14-14. The Leo Shoes still has energies to react and reopen the range with Anderson (20-23). The entrance on the field of Cebulj for the service (immediately ace) brings by one the World Champions, that then also have the rebuilt of the 24-24 with Russell, who shoots, unfortunately, the ball out (23-25).
The Itas Trentino restarts determined and with a good Vettori (4-2, 7-5) in the third set, but the Leo Shoes doesn't give up and quickly finds the tie 11-11. The Geminians take the lead thanks to the ace of Bednorz and Anderson (15-18, 19-22) in the second phase of the partial. Trento doesn't stop fighting and gets on the minus one (22-23) thanks to Candellaro's block. But Anderson takes his team in a clear advantage (22-25).
Modena returns to have the reins of the game thanks to two consecutive ace of Bednorz (8-11) during the the fourth set, which has forced Lorenzetti to interrupt the game. Leo Shoes doesn't concede anything anymore (10-15, 11-17) also because Zaytsev and Anderson score all the available break points. Itas Trentino raised their heads with Vettori and Candellaro (15-18), but then they had to give up (17-22, 21-25).
Trentino Volley Srl
Press Office