Trento, 03 December 2019
President Mosna on RTTR: "SuperLega more and more competitive, the best is yet to come"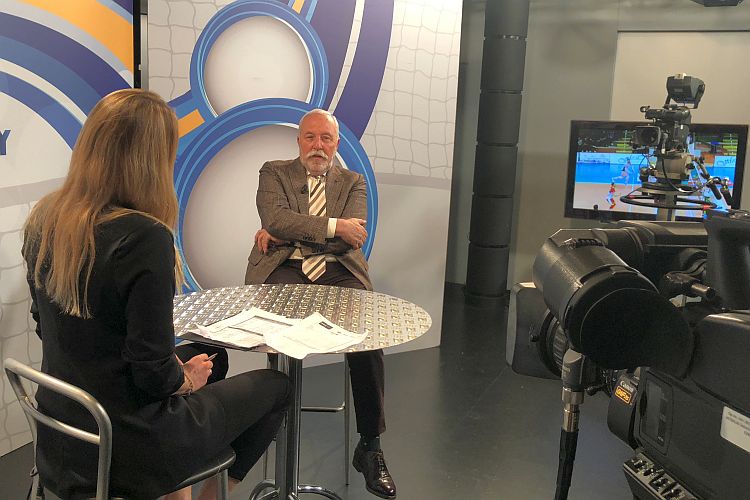 The President of Trentino Volley Diego Mosna intervened as a guest at the weekly episode of "RTTR Volley" on Monday evening. Here are some of the most interesting passages of the interview conducted by the presenter Sara Ravanelli.
PERUGIA. "We knew that a complicated match against Perugia was waiting for us, indeed it was exactly what we expected. We won a set without making a bad impression in lost sets, but Sir Safety Conad deserved the success. Statistically, while playing better than our opponents, we still had to give up the entire stakes because we attacked worse. Atanasijevic and Leon have made an important contribution to the final result and have achieved extraordinary percentages. It would have been nice to collect some points for our ranking, especially to gratify the four thousand spectators present. The public has fully played its part".
SUPERLEGA. "The Italian Championship has risen the bar. So this puts us in a situation that is still different from the one of last season because the top three teams in the ranking have improved, especially in the high-ball phase". In these first ten days, we have shown that we are not at their level yet but we are working to achieve them. The tournament is still open and obviously the final will be decided only at the end thanks to a play off. The best of this championship has yet to come, but keeping one of the first four positions until the end of the first round becomes fundamental".
SCHEDULE. "The pace in this first part of the season was hectic. In the next few days, we will have the opportunity to work without playing official matches and we will have to make the most of it, especially to train with the whole roster and with great dedication. As Serie A Volleyball League, we have already started asking the Federations to have a Club season that is wider and more respectful of all the parties involved, because this pre-Olympic season is really too compressed. The need is to have the possibility to start at the end of September and fnish in the second half of May, a right that we will also claim for all the fans".
A WORLD YEAR. "365 days ago in Czestochowa we won our fifth World Cup in a match against Lube. An evening to be framed, also because the victory came in an unexpected way. There is a bit of sadness and regret in not being able to defend the title in Brazil also in this edition, but these are the rules".
20 YEARS OF YELLOW-BLUE. "This is our twentieth season, an amazing aim for the very high number of victories and the competitiveness demonstrated during all the championships. They passed quickly, offering us an opportunity for very important individual growth and a series of incledible memories".
Trentino Volley Srl
Press Office