Trento, 08 December 2019
Lorenzetti: "We have important numbers, but we must learn how to use them even better"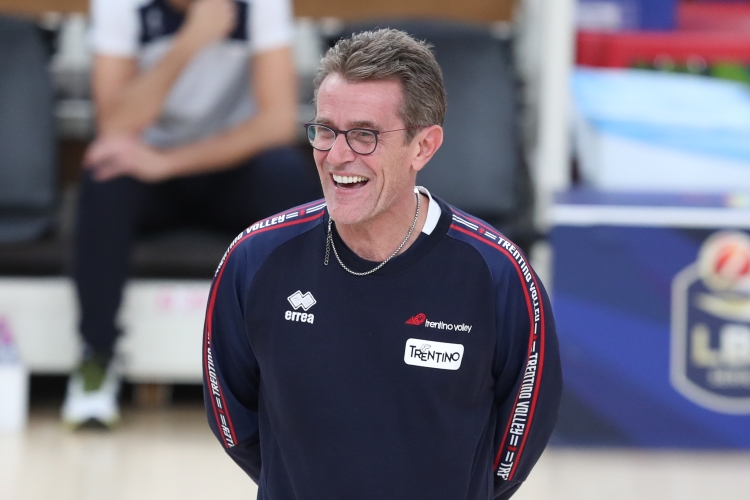 This has been a productive week of training for Itas Trentino. Taking advantage of the day off arranged in the calendar of regular season SuperLega Credem Banca 2019/20, corresponding to the eleventh day, the team has been able to follow an intense training program, but having some time to rest and recover as well, like today (Sunday 8 December).
"These periods without official matches have positive and negative aspects at the same time – explained the coach Angelo Lorenzetti to Trentino Volley TV - . We took advantage of this occasion to work but also to let the team catch their breath, as we haven't had any chance to do it in the last month, and to prepare as best as we can for the next appointments, which we will face with a stronger will to play, after a week without playing against any opponent team. On the other hand, it's also true that maybe we risk losing our pace during phases like this one. These are all factors that we are analysing and discussing with the players in order to underline the negative sides and make the most of the positive ones of this moment. The first eleven matches of the season showed that our ability to play at high levels in both the receiving phase and the break point phase is still alternate and that there are game situations that we can potentially improve more easily than others. Overall we have important numbers that we can use better in order to perform an even better volleyball".
"Between the 12th of December and the day of Christmas we will play five high-profile matches – continued the coach - . First of all we need to focus on Champions League, an event we care a lot about and that deserves to be played in the best possible way. The first match of our Pool, played this week by Fenerbahce against Ceske Budejovice, proved that any match can give balance and uncertainty, because there is a levelling upwards of all the teams and the tournament will become increasingly competitive. We know that on Thursday evening at the BLM Group Arena we will find particularly determined opponents. But we want to start off in the right way and our attitude on the field must be coherent with the one we've always wanted to have, since the beginning of the season".
Trentino Volley Srl
Press Office