Trento, 07 January 2020
Social Networks, the official accounts of gialloblù team on TikTok and LinkedIn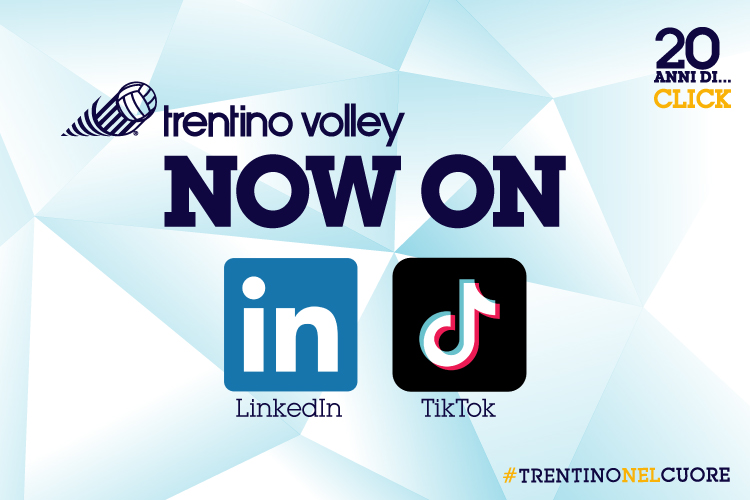 The opening of 2020 brings two significant new developments in the communication of Trentino Volley. With the aim of making its presence on social networks, in which it has always believed in, even more global, the Club gialloblù officially launched its official accounts on TikTok and LinkedIn in the first days of the new year, platforms that touch different types of audience.
TikTok is the (free) social network that allows you to share video clips of 15 or 60 seconds combined with music, sound effects and filters, characterized by a very fast and intuitive editing that makes the posts fun and easy to see. Visible on any type of smatphone but also via PC, it was the most downloaded application ever (behind Youtube, Instagram, Whatsapp and Messenger) in the second half of 2019 and already has 500 million monthly active users worldwide, 2.5 million in Italy alone. The official profile of Trentino Volley shares sketches and curious films of everyday gym life, putting its players at the centre of attention. You can follow the profile searching for @trentinovolley directly from the app or by clicking on www.trentinovolley.it/tiktok, as 68,000 followers have already done during this first days of launch.
LinkedIn is, instead, the free social network that is used primarily for the development of professional contacts and for the spread of specific content related to the labour market. Trentino Volley has joined to promote even more the activity with the sponsors, especially the one done in the last thirteen months ''La Rete che unisce''. On the profile of the team will find place posts related to the activity of partnership and information related to the development of the popularity of the team rather then posts about the results obtained on the field, creating at the same time a professional network of contacts.
In 2019, the platform reached 645 millions of users, of which 210 in Europe and 13 in Italy. You can follow the team searching for ''Trentino Volley'' directly on the app or by clicking on www.trentinovolley.it/linkedin, as 104 followers have already done during this first days of launch.
You can check at any time the social network of the team by clicking directly on:
· www.trentinovolley.it/facebook
· www.trentinovolley.it/twitter
· www.trentinovolley.it/instagram
· www.trentinovolley.it/trentinovolleytv
· www.trentinoovolley.it/tiktok
· www.trentinovolley.it/linkedin
Trentino Volley Srl
Press Office