Trento, 09 January 2020
SuperLega is back on Thursday 16th January, Itas Trentino to make its 2020 debut in Monza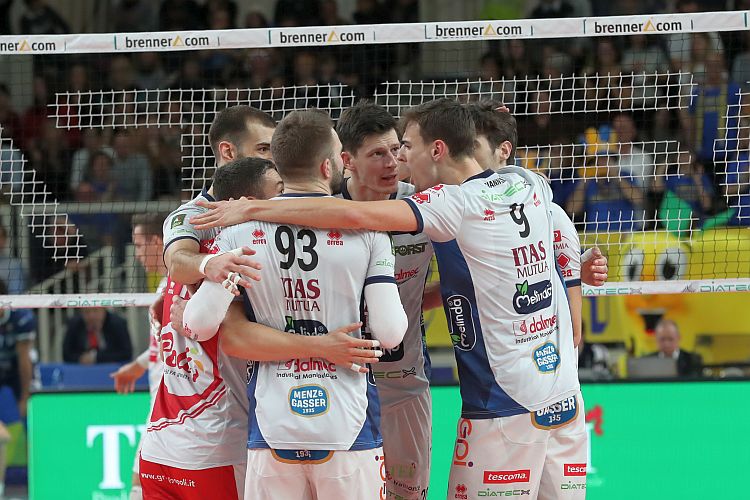 The countdown to the 2020 debut of Itas Trentino is about to expire. Exactly in a week, on Thursday 16th January, at the Candy Arena in Monza (8.30 pm) our team will be back to play an official SuperLega Credem Banca match after more than three weeks of break, which were necessary to make the National teams play the Olympic qualifying tournaments for Tokyo 2020. The team coached by Angelo Lorenzetti will play the second match of the second round of 2019/20 regular season after the three points earned in the home win on Christmas day against Consar Ravenna; a result that enabled Itas Trentino to keep close to the third and fourth place occupied by Modena and Milano (both with a one-point lead on Trentino). The run-up to the first of two matches scheduled for next week (the second will be on Sunday 19th January at the BLM Group Arena against Vibo Valentia) will have the team training until Saturday 11st January before enjoying a Sunday off. At the resumption, already scheduled for the morning of Monday 13rd, coach Angelo Lorenzetti will again be able to count on a full squad; the four players who are playing in Berlin with their own National teams will come back in Trento on January 12nd. They are going to train immediately, so that the technical and medical stuff can assess their conditions.
ITAS Trentino will leave for Brianza on January 15th. The next day it will play the 17th seasonal match, and then there will be other 10 matches: six of Championship, one of Coppa Italia and four of Champions League. This will happen in the following 34 days.
The current SuperLega Credem Banca 2019-2020 standings: Cucine Lube Civitanova 38, Sir Safety Conad Perugia 31, Leo Shoes Modena ed Allianz Milano 28, Itas Trentino 27, Kioene Padova 18, Calzedonia Verona 17, Consar Ravenna 16, Vero Volley Monza 15, Gas Sales Piacenza 12, Tonno Callipo Calabria Vibo Valentia e Top Volley Cisterna 9, Globo Banca Popolare del Frusinate Sora 4.
The 15th league round schedule:
January 15th, on Wednesday: Consar Ravenna-Globo Banca Popolare del Frusinate Sora
January 16th, on Thursday: Calzedonia Verona-Sir Safety Conad Perugia, Vero Volley Monza-Itas Trentino, Cucine Lube Civitanova-Allianz Milano, Tonno Callipo Calabria Vibo Valentia-Kioene Padova, Leo Shoes Modena-Gas Sales Piacenza.

Trentino Volley Srl
Press Office