Trento, 13 January 2020
BLM Group Arena, the whole roster of Itas Trentino is ready for the debut in 2020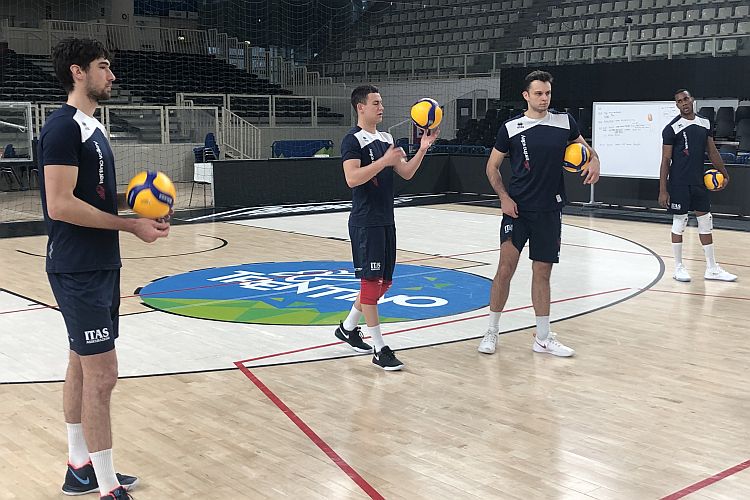 The whole roster of Itas Trentino is now ready for 2020. After a Sunday of rest, the yellow-blue team is back on the field starting the weekly training schedule that prepare them for the debut in 2020. The team had two training session that included weight room and strengthening in view of the away game of January 16th in Monza and of the home match of January 19th vs Vibo Valentia. The four players that last week played the prequalification of Olympic Games in Berlin are back in Trento and are at Lorenzetti's disposal. Uros Kovacevic and Srecko Lisinac had a different training session whereas Klemen Cebulj and Jenia Grebennikov trained with the rest of the roster.
"I am very happy to have obtained the Tokyo 2020 pass, also because the challenge we completed last Friday in Germany was not easy – explained the Libero of Itas Trentino - . Eight strong national teams played in the tournament, with a high-level volleyball; we have been therefore very lucky because we managed to play well at the right time to get the positive result. During the last week, I have faced the three other Trentino Volley players and I have been able to experience, on the other side of the net, how strong they are and how difficult it is to play against them. I had the advantage of knowing them well, we had fun on the field but the happiest one in the end was obviously me, because I won. Having the possibility to participate in the Olympic Games was a great team goal but also a personal one".
"From now on I will focus on Trentino Volley again, Thursday we will be traveling to Monza where I will meet Louati, a national team mate - continued Grebennikov - . I am full of energy and I can't wait to start again to offer my contribution to the team".
Before leaving for Monza, Itas Trentino will have two more training sessions: one on Tuesday afternoon and one on Wednesday afternoon.
Trentino Volley Srl
Press Office