Monza, 16 January 2020
2020 inaugurated with the 3-0 in Monza in the 15th round of SuperLega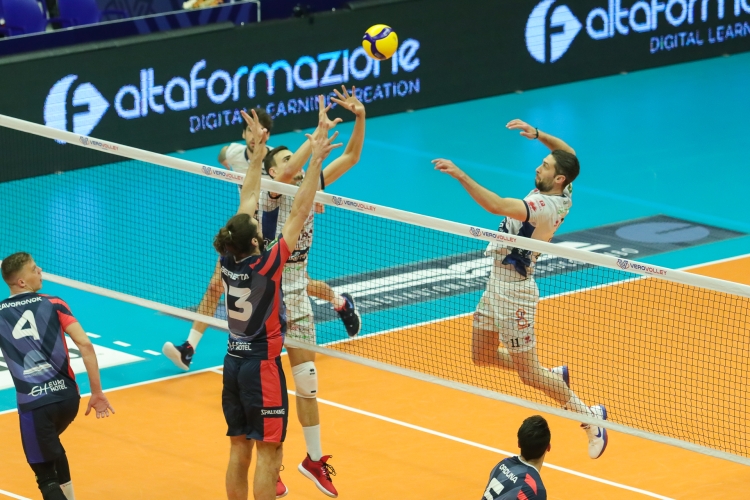 The 2020 Itas Trentino starts with a decisive external victory in Monza. This evening at the Candy Arena the gialloblù team have in fact imposed the 3-0 to the hosts of True Volleyball in the match valid for the fifteenth round of regular season SuperLega Credem Banca 2019/20, relaunching their ambitions in the standings, which now sees them back in fourth place. The three weeks of pause of the championship has clearly allowed Lorenzetti's team to appear on the field in a better way and above all with a much brighter physical condition, as evidenced by the attacking percentages recorded by many players (all Russell with 78% and Lisinac with 69%) and the great estate shown during the second set, the most difficult to win.
After a good start, Giannelli and his team mates have in fact suffered in the central part from the reaction of Monza, passed through Sedlacek's hands; they managed to contain it, winning the advantages (31-29), thanks to the individual cues but also thanks to the excellent things shown between block and defense. The success at the sprint of that sey opened the way also for the third period, won again in fluency along the same lines of the first one. Russell himself (best scorer with 16 points and mvp) was only one of the four Trentino players to finish the match in double figures; together with him also Lisinac (13), Vettori and Cebulj (11 each), confirming Giannelli's very effective direction.
Show below the table of match of the fifteenth day of regular season of 2019/2020 SuperLeague Credem Banca played tonight at the Candy Arena in Monza.
Vero Volley – Itas Trentino 0-3 (19-25, 29-31, 21-25)
VERO VOLLEY: Sedlacek 16, Beretta 7, Orduna, Dzavoronok 12, Galassi 2, Ramirez Pita 1, Goi (L); Louati 4, Yosifov 4, Buchegger 1, Calligaro, Federici (L). N.e. Kurek, Capelli. Coach. Fabio Soli.
ITAS TRENTINO: Candellaro 6, Vettori 11, Cebulj 11, Lisinac 13, Giannelli 2, Russell 16, Grebennikov (L); Micheletto, Djuric. N.e. Daldello, De Angelis, Codarin, Sosa Sierra, Kovacevic. Coach. Angelo Lorenzetti.
REFEREES: Tanasi from Noto (Siracusa) and Piana from Carpi (Modena).
SET DURATION: 27' 40', 29'; total 1 hour and 36 minutes.
NOTES: 1.863 spectators, takings not communicated. Vero Volley: 5 blocks, 2 aces, 15 errors in serve, 7 errors in action, 44% in attack, 41% (19%) in reception.
Itas Trentino: 10 blocks, 3 aces, 16 errors in serve, 6 errors in action, 52% in attack, 53% (42%) in reception. MVP Russell.
Trentino Volley Srl
Press Office