Monza, 16 January 2020
Vero Volley Monza-Itas Trentino 0-3, the match report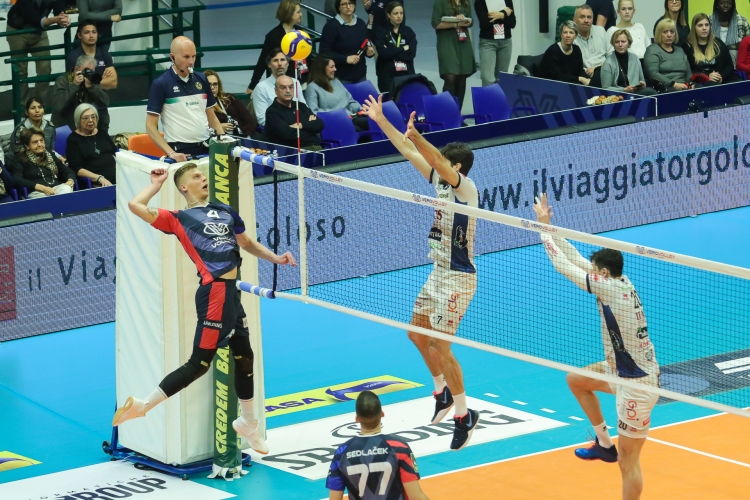 The match report. At the Candy Arena Angelo Lorenzetti decides to start 2020 with Giannelli in the direction booth, Vettori opposite spiker, Russell and Cebulj place 4, Candellaro and Lisinac in the middle-blocker, Grebennikov libero. The Volley Monza has to give up Kurek (not the best), Louati and Yosifov and responds with Orduna setter, Ramirez Pita opposite spiker, Dzavoronok and Sedlacek wing spiker, Beretta and Galaxies middle-blocker, Goi libero. The good start is is made by the guest, with Cebulj and Vettori doing the big voice in rebuilt offering the cue of 5-1 that immediately forces the hosts to take refuge in a time out. At the resumption of the game, however, the gialloblù team continue to dictate the law (9-3), proving to be very effective even on the block (Candellaro over Galassi). Monza tries to raise the head with Beretta (two first times in a row for the 11-8), but Lorenzetti listens to the wake-up call and interrupts the game. Afterwards Trento was again explosive in attack (14-9, 17-12, Lisinac's ace), throwing itself decisively towards the fraction final, which arrived on 25-19 after the Volley Monza had managed with Buchegger to recompose at least part of the score.
In the second set Soli chooses Dzavoronok as opposite spiker and puts Louati middle blocker, while Yosifov finds a place in the middle of the net; the move evidently disorients the Itas Trentino that goes immediately below (3-5, Lorenzetti time out) but recovers finding the draw already at seven.
Monza starts again with Sedlacek (10-12, 12-15), Trento gives the impression of going back up (16-17), then it goes down by three points (16-19), before recapturing again. Candellaro and Lisinac manage to bring the team to a tie (22-22). The final is astonishing because it goes on to the advantages: Monza doesn't takes advantage of two set balls, but the guests yes so the set closes at 31-29 with a block of Russell on Dzavoronok. In the third set Itas Trentino earns immediately a double advantage (4-2), that maintains (16-12), by taking advantage of a few errors made by the opponents. Soli uses all the time-out in a matter of minutes without positive results (19-15); Trento will no stop (21-16) and flies faster to the 3-0 that arrives already at 25-21 (thanks to an attack of Candellaro).
Trentino Volley Srl
Press Office