Trento, 13 February 2020
Lube wins the italian derby of Champions League with a 1-3 comeback victory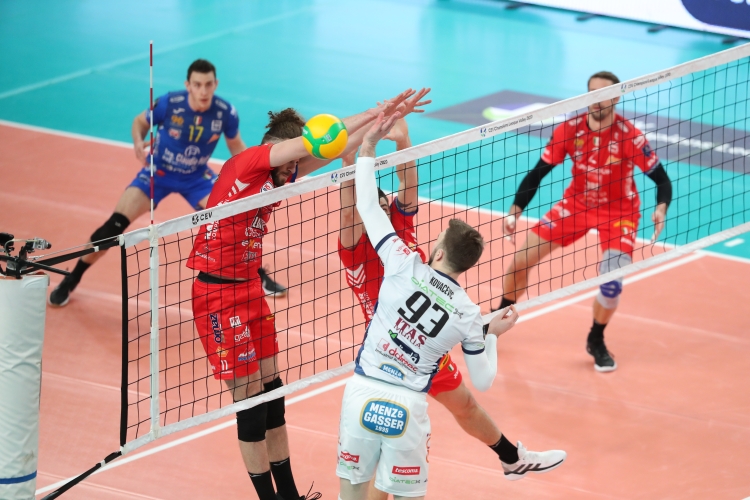 Cucine Lube Civitanova wins the Italian derby of the fifth day of Pool A of 2020 CEV Champions League; tonight the World Champions has taken the BLM Group Arena again, conquering the first position in the ranking one day in advance thanks to the 1-3 victory against Trentino Itas.
In order to get to the quarter-finals, Itas Trentino will have to win next Wednesday in the Czech Republic (last day of Pool A), so as to rank among the best three runners-up of the group phase. The match had started well for the hosts who had won the first set thanks to Kovacevic and had gotten a 16-12 advantage in the second set, before suffering the angry reaction of the other team. With a very efficient service and an unrestrained couple of high-ball strikers formed by Juantorena (22 points, mvp of the match) and Rychlicki, the guests have been able to turn the tables and achieve a success that in the second half has been even greater than expected. Itas Trentino has started to slow down from the third set on, without being able to get back to the approach of the first two sets, which had made its audience dream. Other than Kovacevic (19 points with 44% attack efficiency), also the performances of Lisinac (14 points with 62% attack efficiency, 2 blocks and 4 aces) and Cebulj (15 points with 50% attack efficiency, 4 blocks and one ace) have been positive. Vettori has scored 15 points as well.
Here is the chart of the match of the fifth round of Pool A of 2020 CEV Champions League, played tonight at the BLM Group Arena of Trento.
Trentino Itas-Cucine Lube Civitanova 1-3
(26-24, 29-31, 17-25, 22-25)
TRENTINO ITAS: Candellaro 4, Giannelli 1, Cebulj 15, Lisinac 14, Vettori 15, Kovacevic 19, Grebennikov (L); Michieletto, Djuric, Sosa Sierra, Codarin 1. N.e. Russell, Daldello, De Angelis. coach Angelo Lorenzetti.
CUCINE LUBE: Anzani 10, Rychlicki 24, Kovar 9, Simon 18, Bruno, Juantorena 22, Balaso (L); Bieniek, Diamantini, Massari. N.e. D'Hulst, Marchisio, Leal, Ghafour. coach Ferdinando De Giorgi.
REFEREES: Mokry di Martin (Slovakia) and Makshanov of St. Petersburg (Russia).
SET DURATION: 30', 34', 25', 29'; tot 1h and 58'.
NOTES: 3.073 spectators. Trentino Itas: 9 blocks, 6 aces, 12 mistakes by serving, 7 by attacking, 48% attack efficiency, 38% (23%) by receiving. Cucine Lube: 10 blocks, 13 aces, 18 mistakes by serving, 6 by attacking, 52% attack efficiency, 53% (29%) by receiving. Mvp Juantorena.
Trentino Volley Srl
Press Office