Trento, 13 February 2020
Trentino Itas-Cucine Lube Civitanova 1-3, the match report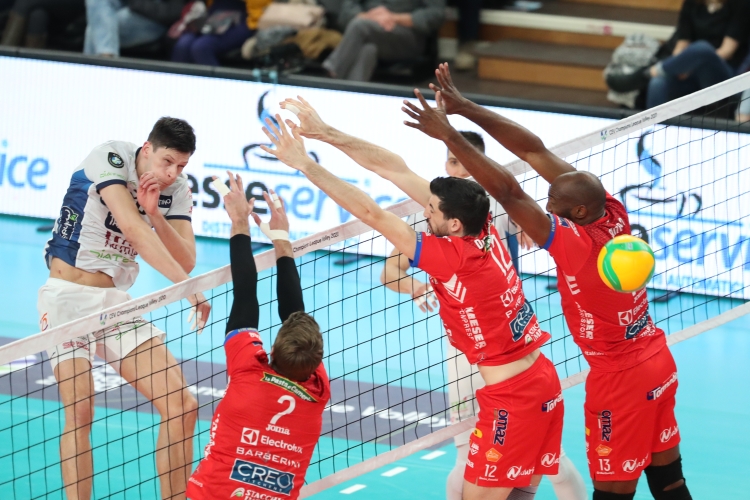 Match report. Trentino Itas' starting six proposed by Lorenzetti sees Giannelli as setter, Vettori as opposite, Cebulj and Kovacevic in area 4, Candellaro and Lisinac in the middle and Grebennikov as libero. Cucine Lube answers with Bruno as setter, Rychlicki as opposite, Juantorena and Kovar as spikers, Anzani and Simon in the middle, Balaso as libero. The match begins with balance (3-3, 5-5) and Kovacevic proves immediately to be in great shape; his block on Juantorena and a point scored as spiker offer the home team the first important break (9-5), just when De Giorgi interrupts the game. Lube recovers whit the attacks of Rychlicki and Kovar (9-8); Trento tries to get in advantage with Giannelli's slash (12-9) but is immediately reached by Lube (12-12), with Simon's block on Candellaro and a mistake by Cebulj. After a time out called by Lorenzetti, Cucine Lube becomes more and more confident (12-14 e 17-19), relying on the service; Cebulj's block on Rychlicki brings the teams to a tie with 21 points each and starts the final sprint. The hosts, who are in advantage, annul a set ball and immediately get another one with Cebulj's service, concretized by Kovacevic.
The enthusiasm given by the victory of the previous set also affects the second one, dominated by Trentino Itas in the first part (5-3, 10-4), thanks to an amazing Kovacevic. The guests look dazed (13-8), but little by little they get back up thanks to Rychlicki and the efficiency of Simon (15-12, 17-15), and it is Simon's block on Cebulj that brings the match to a tie at 18 points; now the battle becomes very tight and proceeds point by point (19-19, 21-21, 23-23) passing the classic score (25-25, 28-28). Lube wins 29-31 at the fifth set ball because of a mistake by Kovacevic.
Cucine Lube starts off the third set very strongly, with Simon's services and Juantorena's attacks (2-6); Trentino Itas tries to react (5-6), but its response does not last long, because the opponents increase the pace (5-9; 10-14). The homeowners try to react (12-15), but it is not enought because the opponents increase the gap with their serving (14-20; 15-22) and obtain the 1-2 quite fast thanks to one ace of Simon.
The situation is the same in the fourth set. Lube's aces put the homeowners' receiving in a difficult spot, who then miss a couple of occasions (0-3, 5-10) increasing the opponents' advantage. Lube keeps the advantage (7-13, 12-19) and relaxes only at the end (from 14-22 to 19-23), reaching anyway the 1-3 (22-25) it was looking for that has secured its first place in the rankings of Pool A.
Trentino Volley Srl
Press Office