Trento, 14 February 2020
Champions League, for the qualification we need to win in the Czech Republic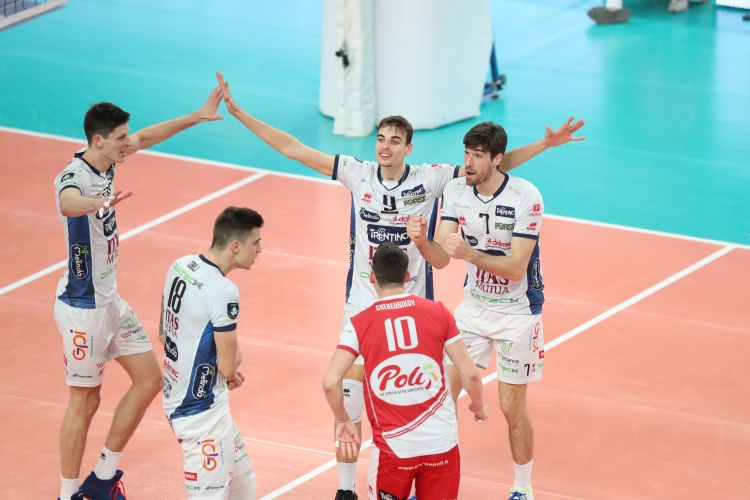 The success on Thursday of Cucine Lube Civitanova at the BLM Group Arena has closed a day early the race for the first place of the Pool A of 2020 CEV Champions League. The 3-1 has in fact guaranteed the final leadership of the round at Cucine Lube Civitanova, who are so already sure of the qualification at the quarter final of the tournament, guaranteed at the winner of the each of the five grouping of the Main Phase.
To get the pass for the final table, goal always reached in the previous eight participations at the maximum continental competition, Trentino Volley must struggle also in the sixth and last day, planned on Wednesday, the 19th of February in Ceske Budejovice on the field of Jihostroj (at 05:00 PM – live coverage on DAZN and Radio Dolomiti).
Angelo Lorenzetti's team will obtain the passage of the turn winning with any score in the Czech Republic placing itself in the group of the three best second – placement that guarantees a place in the quarter finals. The Trentino Itas today boasts three victories and eight points in the rank of the Pool A, one score worse than the Kemerovo (second of the Pool B with 3 successes and 10 points), equal to that of Roeselare (second in the Pool E) and better than Varsavia and Tours (second of the pool D, with two victories and six points) and than Maaseik (second of the Pool C, with three victories and seven points)In order to stay ahead of at least two of the other four teams ranked second at the end of the group stage, even a success at the tie break in the Czech Republic will be enough. In case of equal number of wins and points, in fact the third discriminating factor is the set quotient, which would still be favorable compared to Maaseik, should the Belgians win their last match 3-0, equalizing the score of Trentino Itas (four wins and ten points, but in that case with a set quotient of 1.18 gialloblù compared to 1.09 Maaseik).
Trentino Volley Srl
Press Office