Bologna, 22 February 2020
Itas Trentino fights until the fifth set in the 2020 Del Monte Italian Cup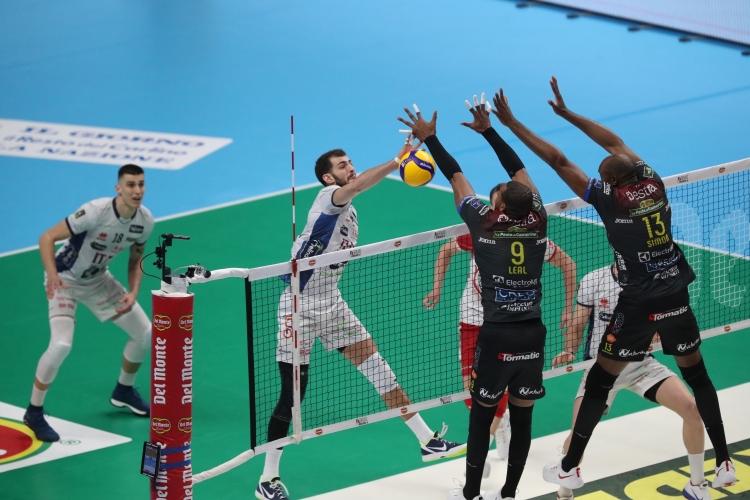 The race of Itas Trentino in the 2020 Del Monte Italian Cup stops in the semi-final. To ''block the road'' to the team towards the possible qualification to its eighth final in the competition has been the Cucine Lube Civitanova, capable this evening at the Unipol Arena in Bologna of winning only after two hours and a quarter and five sets very different one from the other, the knockout match and so, capable of conquering the qualification at the competition that will award the forty-second edition of the maximum National Cup.
To be live up to the forecast the World Champions had to gleaned from all their energies and abilities; in fact the team had to fight tooth and nail until the end, initially surprising the opponents. With an excellent approach to the match, made of big intensity during the break point and a great capacity of realization, Lorenzetti's team had been able to get a head start on 2-0. Powerless, the Cucine Lube has replied during the second half, counting especially on Simon and Rychlicki, who dragged their teammates towards the tie and then at the end of the tie break.
The bitterness for the result of the match, the same as the one of the last edition of the Final Four, doesn't change the excellent performance of Giannelli and teammates, who had hold the candle for four sets, by exploiting the big night of Lisinac (20 points with 6 blocks and 4 aces!) and the big attention during all the match in the fundamental of the block (scored 16 times).
Below is the scoreboard of the first semi-final of Del Monte® Coppa Italia 2020 played this afternoon at the Unipol Arena in Casalecchio di Reno.

Lube Civitanova-Itas Trentino 3-2
(15-25, 20-25, 25-16, 25-21, 15-12)
LUBE CIVITANOVA: Leal 14, Simon 17, Bruno 2, Juantorena 14, Anzani 3, Rychlicki 22, Balaso (L); Kovar 1, Diamantini 1, Bienek 5. N.e. D'Hulst, Marchisio, Massari, Ghafour. All. Ferdinando De Giorgi.
ITAS TRENTINO: Vettori 14, Cebulj 11, Lisinac 20, Giannelli, Russell 17, Candellaro 5, Grebennikov (L); Kovacevic 1, Michieletto, Djuric 1. N.e. Daldello, De Angelis, Codarin, Sosa Sierra. All. Angelo Lorenzetti.
REFEREES: Puecher of Padua and Tanasi of Noto (Syracuse).
SET DURATION: 27', 29', 26', 30', 21'; tot 2h and 13'.
NOTES: 8,952 spectators, for a takings of 145,000 euros. Lube kitchens: 13 blocks, 5 aces, 22 errors in serving, 6 errors in action, 51% in attack, 48% (26%) in reception. Itas Trentino: 16 blocks, 7 aces, 16 serving errors, 4 action errors, 44% attacking, 56% (28%) receiving. Red card to Leal on 4-6 of the first set.
Trentino Volley Srl
Press Office