Bologna, 22 February 2020
Cucine Lube Civitanova-Itas Trentino 3-2, the match report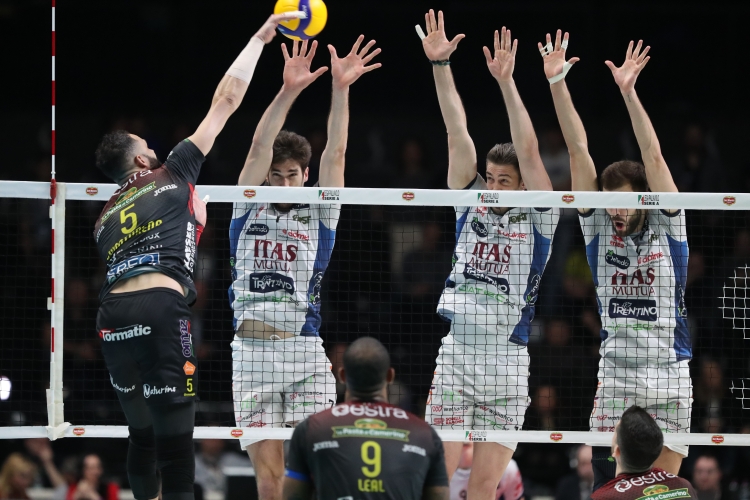 The chronicle of the match. The starting six aren't new: Angelo Lorenzetti counts on Giannelli as setter, Vettori as opposite hitter, Russel and Cebulj as hitters, Lisinac and Candellaro as middle hitters and Grebennikov as libero. The Cucina Lube Cvitanova responds with Bruno as setter, Rychlicki as opposite hitter, Leal and Juantorena as hitters, Anzani and Simon as middle hitters and Balaso as libero. The start of Trentino Volley is scrappy and determined, thanks to the vivid service and to the block that works well on the opponent's attacks (3-1, 6-4). The Cucine Lube is nervous, enough to get a red card with Leal for protests; after, two blocks (Lisinac on Simon and Vettori on Leal) widen the margin (10-5). Lorenzetti's team is a moving train that takes more and more speed thanks to an exciting phase of break point (14-7; 18-10; 20-13). Russell and Lisinac uncontrolled and so they drive the teammates to the success, already on 25-15. Itas Trentino starts well also the second set (5-3, 8-6). The block continues to make the difference and so Trento flies away (10-6 and 12-6); the Lube tries to follow (14-10), going up to one (19-18). Trentino Volley doesn't shake and with the ace of Cebulj and the block of Russell on Rychlicki restarts strongly (22-18) closing also this set on 25-20. In the third set the Cucine Lube starts with a good service (1-5) in the attempt to reverse the trend. The Itas Trentino remains head at the match (6-9) also thanks to the regularity of the game offered by Cebulj. The Marches, however, were very quick and did well in serving and block (13-18). They already capitalized on 16-25 despite Lorenzetti has provided several changes.
The Lube tries to replicate what it did before also in the fourth period (0-3, 3-6), but this time the gialloblù team resume it immediately (8-8) with Vettori again effective at serving. The central part is then fought point by point until 13-13, then the opponents played a good game in serving (13-15) and with Simon unleashed on the block they find more and more space (16-19, 17-21), reaching the tie break on 21-25.
The partial fifth is played point to point (5-5, 7-8) until 12-12, then the Lube takes advantage of an error of Vettori in order to win the first match ball, which changes immediately (12-15).
Trentino Volley Srl
Press Office