Trento, 23 February 2020
Lisinac after the Coppa Italia Final Four: "We're proud of the things we did in Bologna"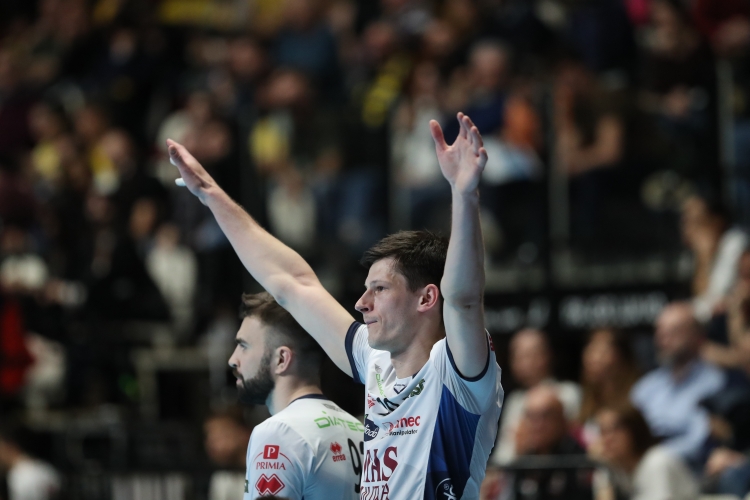 Pride and regret are feelings present in the aftermath of the semi-final of Del Monte® Coppa Italia 2020, lost at the tie break by Itas Trentino against Cucine Lube Civitanova at the Unipol Arena in Bologna. The yellow-blue middle-blocker Srecko Lisinac describes these sensations well through his words, once again author of a very hig- level performance.
"We played a great match and we are proud of what we did but unfortunately it was not enough to win the qualification to the Final - admits the Serbian, author of 20 personal points on Saturday afternoon - . We really wanted the win, we gave our all to get it, but in the second half of the match Civitanova managed to perform a come back, playing better than us. We are sorry and sad for not taking full advantage of the opportunity we had built in the first two sets, playing a nice volleyball probably the best of our season. We started the match at full speed, making very few mistakes. However, in the third set the match changed. Having fought as equals in both the fourth and the fifth set must be a source of pride and a starting point. After all, the result of the match was decided only by an episode at the tie break".
"Let's hold on to the many good things we have done in Bologna and during the last seven days - continued Lisinac - . Now we have a whole week to recover and to improve our game. I think that Saturday's game at the Unipol Arena has shown that we need to work properly. My 20 personal points? The game with Giannelli is now well established and everything becomes simpler for me, I am in a good condition but, believe me, I would have preferred to have done less points and win the game... "
The 2020 numbers of Itas Trentino's central; from the beginning of the current calendar year he has already scored 161 personal points, an average of over 13.3 winning balls per game.
Trentino Volley Srl
Press Office