Trento, 25 February 2020
Da Re at "RTTR Volley": "The team is constantly growing, and Coppa Italia confirmed it"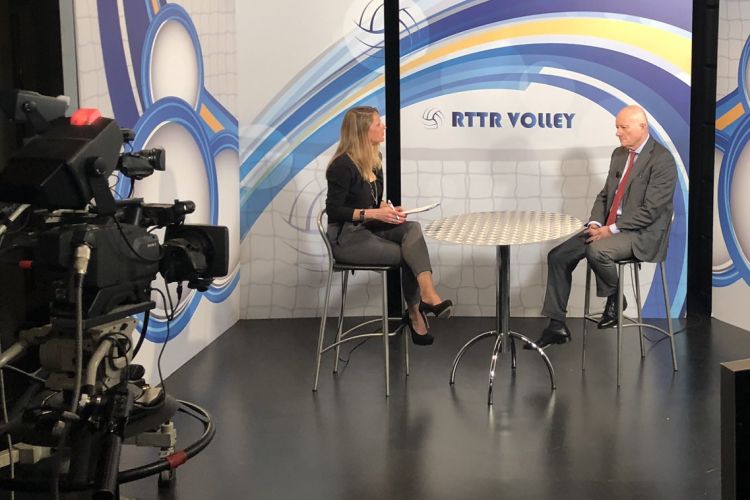 On Monday, 24 February, the twentieth seasonal episode of "RTTR Volley", a program that the TV partner dedicates to Trentino Volley every week, hosted the General Manager Bruno Da Re. During his chat with the host Sara Ravanelli, the manager assessed the situation of the team after the Final Four of Coppa Italia. Here are some of the most meaningful moments.
REGRET. "It is the feeling that stuck with us after the defeat in the semi-finals at the tie break against Cucine Lube because, as it has already happened many times this season, we had an advantage in the score but we haven't been able to succeed. It's a pity, because this good match left us with very little, if not nothing. The absence of Kovacevic, still not in perfect physical conditions, penalized him as well as us as a team; we hope for him to completely recover in time for the play offs of the championship."
SUPERLEGA. "The two finalists of Coppa Italia, Civitanova and Perugia, surely have something more than Trento and Modena. Those are highly structured, very strong and well equipped teams, against which it is objectively difficult to play. Many times we have been close to a victory against them, but we haven't succeeded yet".
ITAS TRENTINO SEASON. "We are growing, the team is getting better and our game is improving and is at a higher level compared to some time ago. Up till now, this year is in line with what we expected: we played the Final Fours of Supercoppa and Coppa Italia, fighting on equal terms with those who have beaten us in the semi-finals, we obtained the qualification for the quarter-finals of Champions League, a goal we've had since last season. What we are still lacking are some certainties that allow us to obtain even more important results and to play with more conviction. What we couldn't expect was to have such a busy schedule; for example, it is fair to remind that we got to the Final Four after a very strenuous trip for an away match in Ceske Budejovice only two days before the event and it has surely been influential".
CALENDAR. "As of today, Sunday's match against Cisterna has been postponed. Playing behind closed doors? We are still trying to figure out if it is possible; obviously we would prefer to play in front of our audience, but the calendar wouldn't allow us to find many other dates to recover, that's why we are considering the possibility to play the match even without an audience. The situation is in the making, we are waiting for more information in a few hours but the match of Champions League on 5 March is also a problem. There are even less possibilities to find other dates for it".
Trentino Volley Srl
Press Office