Trento, 23 June 2020
Lorenzetti to SPORTLER Talk: "Next season I'd like a stronger Itas Trentino..."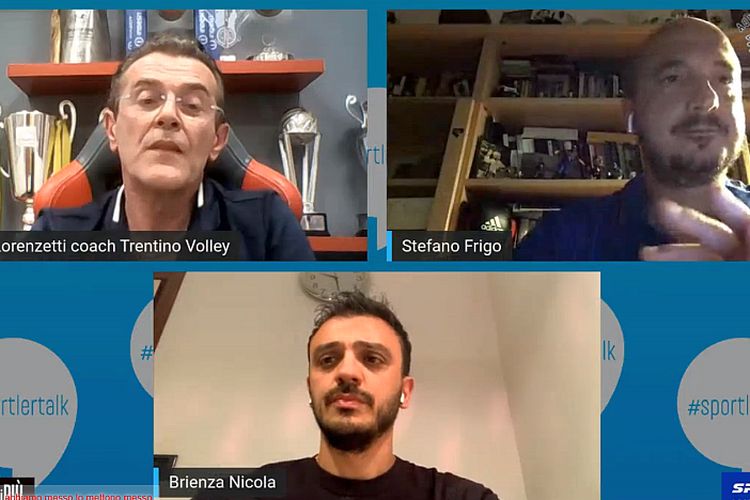 Trentino Volley coach Angelo Lorenzetti was the protagonist this evening, together with Aquila Basketball coach Nicola Brienza, of the fourth episode of the social format "SPORTLER Talk", organized by Sportler (sponsor of both clubs) under the careful direction of Alberto Cristani of Sport Di Più Magazine. Solicited by the questions of the journalist of Corriere del Trentino Stefano Frigo, the gialloblù coach offered important considerations on various topics.
"My main memories of the lockdown period? The first is certainly the desire to fight shown by the doctors and nurses, something that gave a great sense of emergency - he stressed - . Among others, also the moment when it was decided to close the Italian championship early; for people like us who live of this sport it was particularly significant, because it made us understand that we could not be a resource".
"Kooy will be an element that I hope will prove fundamental - continued Lorenzetti - . We believe that we have taken a player who has a good experience and who can produce an important high score. The possibility of employing him on the pitch with Italian status will allow us to change the geometry of this team, employing two foreign central players in order to vary our game and perhaps make up the ground lost in the last two years. I know Dick and I think the Trento atmosphere is ideal for him to have an important season. The pandemic has changed the market little because many clubs had already set it up, perhaps it only penalized those who still had to close contracts permanently. We wanted to change the face of our team; the new team will have to choose what kind of volleyball to play: in a more technical way. In attacking and batting we can get closer to the leaders, but we have to work a lot on the other fundamentals and the amalgam. I'm confident we can close the gap to Civitanova. I've been talking to Giannelli over the last few days and I've found him ready to start this new adventure".
"Sport behind closed doors is something we must learn to manage, even on an emotional level - concluded Angelo - . We will have to be able to excite the audience that sees us from home, even without having the feedback that usually guarantees us a full arena. Until now we have been like theatre actors, from now on we will have to reinvent ourselves as cinema actors, without the possibility to do more takes. At the end of the day, we also get excited in our homes when we watch a film. We have to learn from actors in order to be able to get something to viewers from home. When we go back to playing with open doors, maybe we will have learned something from this situation as well.
Trentino Volley Srl
Press Office