Trento, 30 June 2020
Alessandro Michieletto definitely moved up to the SuperLega team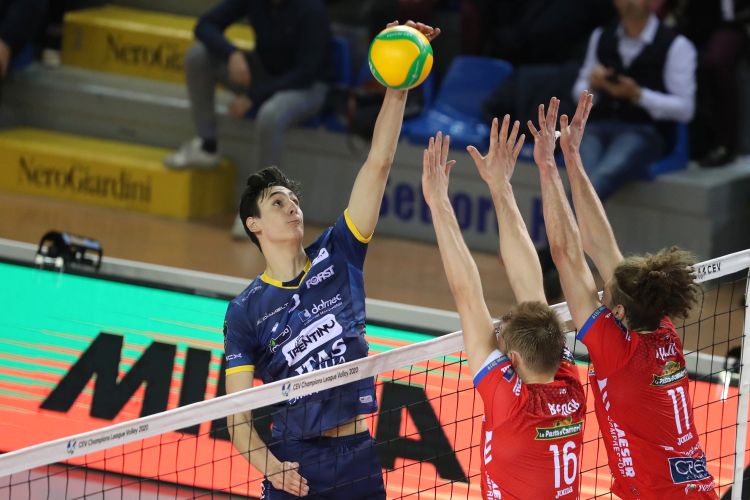 For more than a decade now, Trentino Volley's first team has welcomed at least one player from its youth sector into its new roster. The tradition will be respected also during the 2020/21 sport season: it will be renewed by Alessandro Michieletto who from the beginning of the next regular season will definitely be a player of the first team, after having completed the whole process in the Trentino Volley nursery and played the last Serie A3 championship with the Under 21 team within the UniTrento Volley project.
For the eighteen-year-old spiker from Desenzano del Garda, son of the historic Trentino Volley Team Manager Riccardo, this is a promotion earned on the court; in fact, in the last season Alessandro has already had the opportunity to demonstrate his great potential, often training with Giannelli and his teammates and finding space in place 4 even in not so easy matches, such as the Coppa Italia quarter-final won 3-0 in Milan or the delicate Champions League match in Ceske Budejovice, solved at the tie break also thanks to his contribution. The absolute protagonist of last summer's Italian Under 19 World Cup success, Michieletto junior is a talented player, with a great forearm pass and a really interesting manual skills, and little by little he is also becoming a physical athlete, as his 205 centimetres height tells us.
"Alessandro is just the umpteenth important player of a Youth Sector such as Trentino Volley, which has been launching players of great interest for many years, also from an Italian perspective - confirmed President Diego Mosna - . Specifically, Michieletto is perhaps one of the most futuristic youngsters, because he plays a role currently lacking in Italian talents such as the spiker and he is certainly a talent. After what we have already seen in the last season, I am convinced that he can offer a great contribution to the group even though he is still so young. I am therefore particularly proud to officially welcome him to the first team, with a big thank you to his father Riccardo who I remember well coaching Alessandro at a very young age at PalaTrento".
"Being part of Trentino Volley squad has always been a dream for me, which I had started to cherish since I was a child when I watched the team's training sessions from the sidelines with my father - said Alessandro Michieletto - . I would like to thank Trentino Volley for the opportunity it is offering me; already in the last championship I had the opportunity to live the group of the first team and now being part of it makes me very happy and very pumped up at the same time. My journey in the nursery was important and I was lucky to be able to grow in a club like this, which has always believed in young people. The experience in Serie A3 with the UniTrento Volley jersey has been formative; it has enabled me to gain experience and improve the fundamentals. A few years ago I wasn't that tall, so much so that I started playing as a libero, which is also why I now feel more confident in receiving and defending, while I have to grow physically, in attacking and in blocking phase. My example is Simone Giannelli: every time he plays he puts his heart, head, technique and soul on the court".
Michieletto is the nineteenth player to join Trentino Volleyball first team from the Youth Sector; he will go on to wear the number 5 jersey that he already worn in the 2019/20 season. His last debut was sealed by his first personal point: 13 February 2019, Trentino Itas - Amriswil Volleyball 3-0 CEV Cup.
The profile
ALESSANDRO MICHIELETTO
born in Desenzano del Garda (Brescia), 5 December 2001
205 cm, spiker
2017/18 Trentino Volley C and youth sector.
2018/19 Trentino Volleyball B and youth sector.
2019/20 Itas Trentino SuperLega and UniTrento Volleyball A3 and youth sector.
2020/21 Trentino Volleyball SuperLega

In National Team
World Gold Medal Under 19 2019
Gold Medal EYOF Under 19 2019
With Trentino Volley
Debut on 13/02/2019 (Trento-Amriswil 3-0)
20 appearances (2 in 2018/19, 18 in 2019/20)
21 points (1 in 2018/19, 20 in 2019/20)
Trentino Volley Srl
Press Office