Trento, 03 July 2020
First words as a Trentino Volley player for Argenta: "I chose Trentino Volley because..."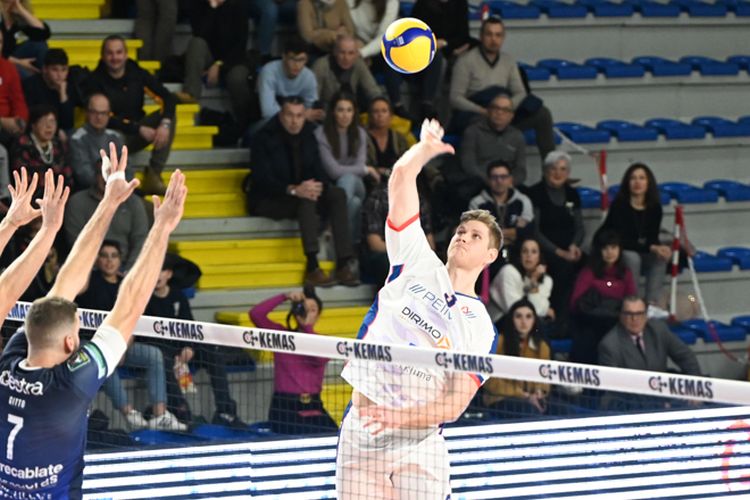 The first interview as a Trentino Volleyball player with Andrea Argenta, the 24-year-old opposite hitter from Veneto made official today.
Welcome to Trento, how do you feel about becoming a Trentino Volley's player?
"I've always heard about this environment in a positive way and so it's a great pleasure for me to be part of it. I've often played as an opponent against Trentino Volley, both at a youth level and in the first team. I'm happy to finally be able to pass on this side of the net".
Why did you choose Trento?
"The chance to train at a high level every day in a very competitive group was certainly very tempting. It will be important to be able to create the right alchemy with everyone, because we have a very difficult and different championship ahead of us, but I look forward to it with great confidence".
What kind of opposite hitter are you?
"I'm a player who prefers technical fundamentals like attacking and blocking, while at serving I'm less efficient. I'll still have to work hard on every single aspect of my playing because I'm not yet in a position to feel confident about anything in particular".
In the Trentino Volley 2020/21 team there are many players you already know...
"Simone Giannelli better than the others, since we are the same age and we have often shared experiences in the youth national team, but then also Rossini, with whom I shared a season in Modena, and also all the other young athletes with whom we have already met several times between Italian colleges and matches. However, I'm also very curious to meet the players I've never had anything to do with".
There's also the coach, Angelo Lorenzetti...
"Some of my former teammates who have already had him, like Elia Bossi or Bruno, only spoke well of him, so when Trento's offer came I accepted immediately for this reason too. I have no doubt that he can make me grow a lot".
Would you like to send a greeting to the Trentino Volleyball fans?
"Hopefully we'll see each other soon at the BLM Group Arena and if we still can't get in, then we'll have to meet outside the arena at a safe distance".
Trentino Volley Srl
Press Office