Trento, 24 July 2020
On the social Yellowblue network "Lucarelli mania" is on fire: +891 followers in 24 hours!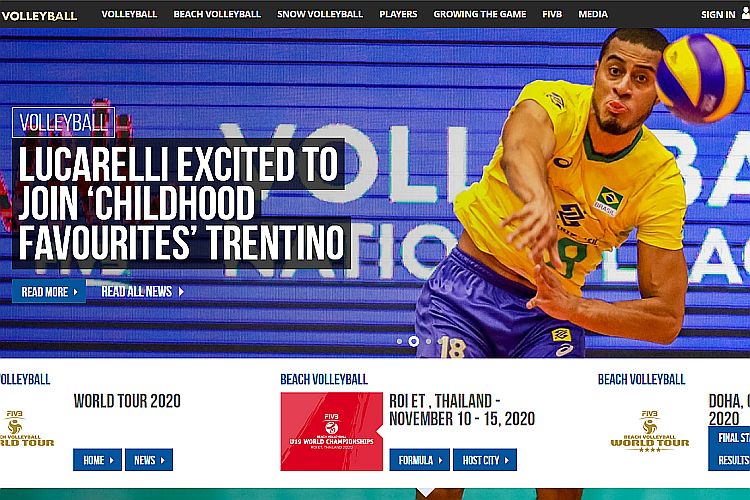 The official signing of the Brazilian Ricardo Lucarelli has literally unleashed the Trentino Volleyball fans who since July started again to dream. The response of the fans on the social yellowblue network was extraordinary: boom of contacts and followers during Thursday, July 23rd (the one following the announcement of the green and gold crusher).
In the previous twenty-four the official website www.trentinovolley.it, counted 3,887 visits, with 1,924 new users and the considerable number of 10,086 pages. To make the news even more clicked on the web, FIVB and CEV have also dedicated their homepage to it. The "Lucarelli Effect" has also offered an important boost to the official Yellowblue accounts on Social Networks, channels that in twenty-four hours have registered a total increase of over 891 followers. The twitt that told the operation in a few minutes went viral, allowing the Yellowblue profile (available by clicking directly on www.trentinovolley.it/twitter) to receive a total of over 17151 views, 61 "retwitt" and 273 "like".
Particularly significant was the response received on Trentino Volley's Facebook page (available at www.trentinovolley.it/facebook); enough to say that more than 34,216 people reached the posts where the agreement was made official, with 73 shares, more than 1,200 "likes" and about a hundred comments.
But the biggest explosion from this point of view occurred on Instagram's account (www.trentinovolley.it/instagram): the three posts dedicated to Lucarelli generated 133117 "impressions", with over 21,050 "likes" and 340 comments, but above all they gained 500 more followers. The video greeting to the new fans, made by Lucarelli himself in Brazil, has been viewed 1,283 times for a total of 9.3 hours on Trentino Volley Tv (official YouTube channel). On the TikTok profile, finally, there were 215 more followers.
Trentino Volley Srl
Press Office