Trento, 27 July 2020
The fourth week of training begins: eleven players available to Lorenzetti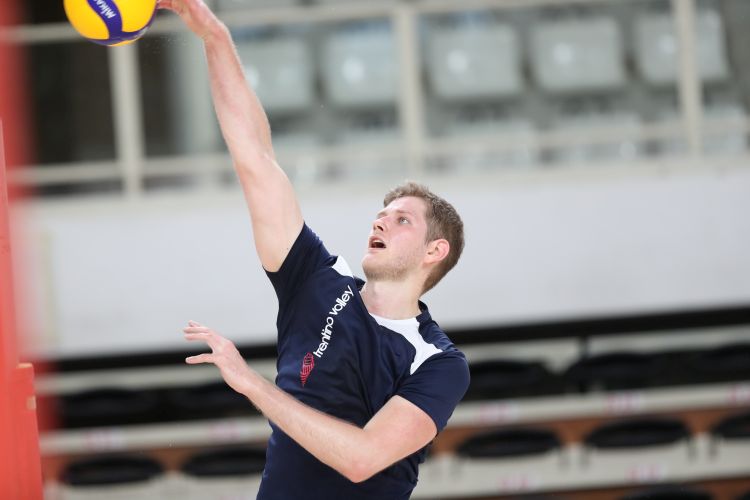 Itas Trentino is back to work this afternoon at the BLM Group Arena for the fourth week of pre-championship 2020/2021 preparation. After two days off, the team resumed the training with a double session divided into groups (strengthening in the weight room and technic on the field). At the disposal of Angelo Lorenzetti and his staff there are eleven of the thirteen players of the roster, with the addition for this period of young Bonatesta and Acuti (who will be part of the UniTrento Volley roster for the next season of Serie A3); the only absent players are the spikers Michieletto and Lucarelli, respectively still in Darfo Boario (with Italia Juniores) and in Belo Horizonte in Brazil.
During this period the work will be further intensified for what concerns the exercises with the ball, also carried out in the mornings of Tuesday, Thursday and Saturday, without changing the sessions in the weight room. The middle blockers Lisinac and Podrascanin will continue the differentiated trainings with sports trainer Barbieri, so as to catch up as soon as possible with the rest of the team.
Below the full program of the third week of training before the beginning of the 2020/21 season.
Monday, 27th July
15.00 – 18.00 weights and technic (divided into three groups)
Tuesday, 28th July
9.30 – 11.00 technic
16.00 – 19.00 weights and technic (divided into three groups)
Wednesday, 29th July
15.00 – 18.00 weights and technic (divided into three groups)
Thursday, 30th July
9.30 – 10.30 technic
16.00 – 19.00 weights and technic (divided into three groups)
Friday, 31st July
15.00 – 18.00 weights and technic (divided into three groups)
Saturday, 1st August
9.30– 11.30 weights (divided into two groups)
Sunday, 2 August
Day off
Trentino Volley Srl
Press Office