Trento, 31 July 2020
Nimir at Radio Dolomiti:"We are finally working with a specific aim: the Italian SuperCup"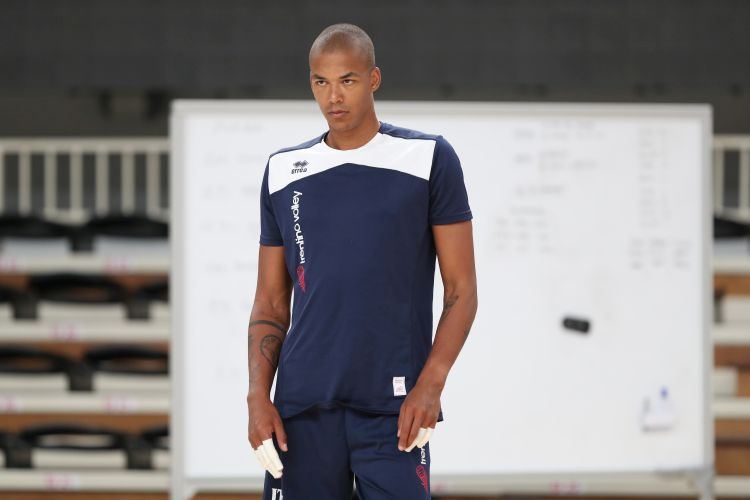 The fourth week in Trento of Nimir Abdel-Aziz was characterized not only by the great amount of work done at the BLM Group Arena but also by a live interview at Radio Dolomiti studios. This morning he was guest of the media partner of Trentino Volley.
"Just call me Nimir - he explained - . I speak five languages and in Italy I have always felt good, I like your way of understanding life. I spent my first two years in the Italian championship playing as setter in Treviso and Cuneo. In the following seasons I moved to Poland and also to France and right there I changed my role due to the needs of my team; the opposite owner was injured, the coach asked me to try to replace him. The experiment worked and at the end of the year I decided to continue with that role".
"The first impact with Trentino Volley was very positive; I knew that by choosing this Club I would find great organization - continued Nimir - . I hope to be able to play in front of our public soon. Finally, we have the official dates of the new season (September 13 and 20) of the Italian SuperCoppa; it is something positive and allows us to set an aim for the great amount of work we are already doing. carrying out in this first part of preparation. Playing against a team like Civitanova, which has won a lot in recent years, will be able to tell us something important immediately".
"The team must aim to win - he concluded - With Giannelli the agreement is growing, we have not yet been able to measure ourselves in a six against six but in the meantime, we are looking for the right synchronicity. Other sports? In the past I played tennis, my favourite player has always been Roger Federer".
Trentino Volley Srl
Press Office